TECH: STOCK BUYBACK ANNOUNCED; NXP DEAL A CASUALTY OF TRADE WAR
Auto Sector Still Key Driver for Qualcomm
Sunday, July 29, 2018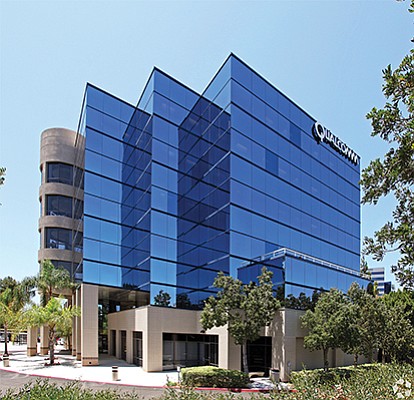 QUALCOMM
CEO: Steve Mollenkopf
Revenue: $22.3 billion in fiscal 2017; $23.6 billion in fiscal 2016
Net income: $2.5 billion in fiscal 2017; $5.7 billion in fiscal 2016
No. of local employees: 13,000
Headquarters: Sorrento Mesa
Year founded: 1985
Stock symbol and exchange: QCOM on Nasdaq
Company description: Semiconductor company and wireless technology developer
San Diego — Qualcomm Inc. on July 25 abandoned its 21-month odyssey to acquire Dutch chipmaker NXP Semiconductors NV, racking up a $2 billion break-up fee and cutting ties with a company it had hoped would accelerate growth in its automotive and internet-of-things businesses.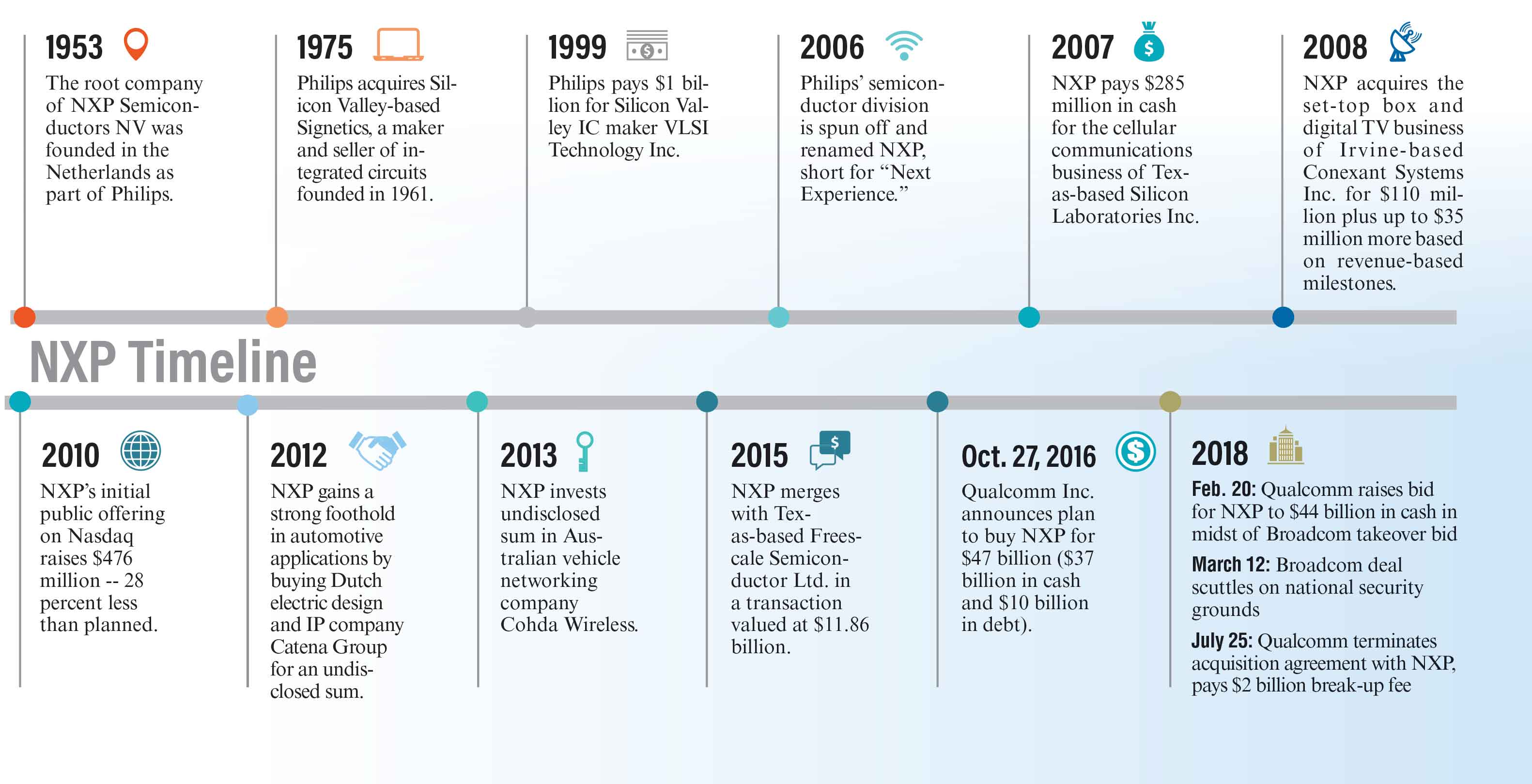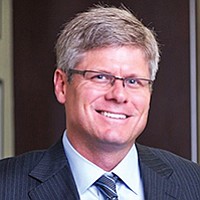 Steve Mollenkopf, CEO of the San Diego tech giant, said the deal's failure doesn't mean the company plans to change the underlying strategy that first inspired it.
"The rationale for the NXP acquisition was to accelerate our strategy of growing into adjacent opportunities where mobile compute was becoming ubiquitous," Mollenkopf said. "This strategy remains unchanged."
Without NXP, the company said it will nonetheless forge ahead with its plan to diversify its revenue streams by expanding its automotive and internet-of-things businesses, while buying back billions worth of its shares in an expanded repurchase program.
Rising trade tensions between the U.S. and China were widely believed to have stymied the deal, which required approval from China's regulators to move forward. Eight other regulatory entities that needed to sign off for the deal's consummation had previously given the OK.
Mollenkopf said in a July 25 earning call that the deal itself wasn't the deal breaker; it was the geopolitical environment.
"The decision for us to move forward without NXP was a difficult one," he said. "The continued uncertainty overhanging such a large acquisition introduced heightened risk."
Qualcomm's management team determined that change in the current geopolitical environment looked unlikely in the near future, Mollenkopf said.
"The company needs to focus on the opportunities that are ahead, I think that's important; the other aspect is we just need to provide certainty not only to our partners and shareholders but also to the employees as to where we're going," he said.
From Cost Cutting to Growth
There are fewer employees at Qualcomm today than when the NXP agreement was first announced: The company has laid off 1,500 workers, mainly in San Diego, in recent months as part of a plan to cut $1 billion in costs.

"The company stock price has been hovering in the $50s for the past five years or so, so from a stockholder's perspective they have not done that great in terms of returns with the exception of whatever little dividends they've gotten paid," said Nikhil Varaiya, a San Diego State University finance professor. "The company now needs to ensure they will improve growth going forward, which was the plan in the first place following the Broadcom situation."
Qualcomm came close to being acquired itself by rival Broadcom Ltd. in a hostile takeover early in 2018 before the bid was quashed by the federal government on national security grounds.
Qualcomm, which has a market cap of about $88 billion, had agreed to spend $44 billion to acquire NXP. Now it will be using some of that previously earmarked cash to buy stock back from shareholders.
Mollenkopf said Qualcomm would be repurchasing up to $30 billion in shares — and a "large majority" of that by the end of its fiscal 2019. That was an upward revision from a previously announced buyback plan. In May, the company said it intended to repurchase $10 billion in shares.
"Buybacks make sense if the stock is thought (by management) to be significantly underpriced based on their internal assessments," Varaiya said.
That's because the move is intended to signal to the market that those who know most intimately the state of the company expect its stock price to rise in the future, and are betting on it publicly by buying shares now.
Earnings Buoyed By Payment
Qualcomm's quarterly earnings, announced the day Qualcomm and NXP's agreement expired, handily beat guidance. For the third quarter of the San Diego tech giant fiscal year 2018, which ended June 24, the company reported net income of $1.5 billion on revenue of $5.6 billion, compared with net income of $1.2 billion on revenue of $5.3 billion one year prior.
An average of ratings from 24 analysts estimated earnings at 71 cents per share. The company's guidance had been for 65 cents to 75 cents per share. Earnings were $1.01 per share, and revenue from its licensing division totaled $1.47 billion, significantly above Qualcomm's estimate of $850 million to $1.05 billion.
"The market is reacting well," Varaiya said on July 25. "In the absence of the buyback, I suspect the stock would have gone down."
Stacy Rasgon, who covers Qualcomm for Sanford C. Bernstein & Co., noted, however, the company would have not beat guidance without a $500 million payment from one of its licensees — which Qualcomm has not named, but analysts believe to be Huawei — with whom it has been feuding in court as part of its legal wrangling with Apple over royalty costs.
"It's good, don't get me wrong, but at the same time the core business looks like it's maybe a little incrementally weaker," Rasgon said. "But you have the Huawei settlement and you have the $30 billion buyback that will help to support things."
The company said it anticipates revenues of $5.1 billion to $5.9 billion and earnings per share of 75 cents to 85 cents in the fourth quarter, not including the impact of the $2 billion termination fee it owes NXP or the buyback program. The NXP payment could bring earnings down by $1.35 per share. Qualcomm said it will use existing cash and cash equivalents to cover the payment. As of the end of the quarter, the company had $35.9 billion in cash, cash equivalents and marketable securities.
Seeking Growth Channels
As for its automobile segment, which it had hoped to augment with the NXP acquisition, Mollenkopf said in the earnings call that the business was doing well on its own and had a $5 billion backlog.
"We benefited from the fact that we are strong in the technologies that are defining many of the new use cases, in particular telematics and the connected car through telematics as a product line, but also in our infotainment business," he said. "So we feel today we already have significant scale."
However, for its internet-of-things business, which NXP would also have bolstered, Mollenkopf said the company will likely need to source a way to grow beyond it organic progression.
"We do not have as strong an organic channel as would be brought to us by the NXP transaction," he said. "It's growing and it contributes to the business today, but we're going to have to augment that a bit here in the future."
Going forward, doing so, plus rolling out the buyback program, are Qualcomm's top priorities from a capital-allocation perspective, he said.