Qualcomm, NXP Acquisition Proposal Nears Expiration
Monday, July 23, 2018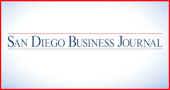 Qualcomm Inc. is nearly out of time to close its acquisition of NXP Semiconductors NV, the Dutch business that San Diego's largest Fortune 500 company has been angling to acquire since 2016.
The deal agreement expires July 25. The companies are waiting on approval from regulators in China.
The deadline comes amid heightened U.S.-China trade tensions, which so far appear to have stymied the wireless giant's plans to combine with the smaller company, which is primarily known for its chips that are used in cars.
Qualcomm has said the move would help further diversify its business, which is reliant on mobile phones.
If the deal falls through, Qualcomm will owe NXP a $2 billion break-up fee.
The companies theoretically could agree to extend the deadline. But CEO Steve Mollenkopf recently told the New York Times that Qualcomm would not pursue any such extension.
Reach reporter Sarah de Crescenzo at sarahd@sdbj.com.