A Tip of the Toque to All Chefs at Meals on Wheels Challenge
Sunday, July 22, 2018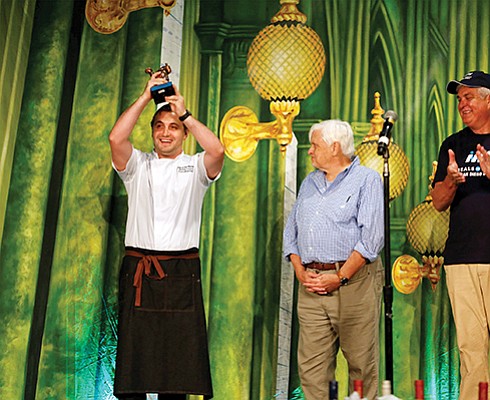 San Diego — Meals on Wheels San Diego County recently held its "Over the Rainbow" Ball & 9th Annual Chef Appetizer Challenge at the Sheraton Harbor Island. This year's event raised $235,000. It's the largest annual fundraiser to raise critical funds to support the independence and well-being of more than 3,400 seniors in San Diego County. Included in the festivities was the annual "Chefy Award" pitting some of San Diego's finest restaurants and chefs against each other to see who would reign supreme for the best appetizer. Chef Jeremy Loomis from Top of the Market won the coveted Chefy Award for 2018.
• • •
Promises2Kids recently awarded 120 foster youth with scholarships, valued at $5,000 each. Promises2Kids' Guardian Scholars program encourages foster youth to pursue higher education through community college, trade school or a university degree. This highly successful resource provides former foster youth with a partial financial scholarship along with mentoring support to assist them in adapting to and excelling in a higher education setting. More than 90 percent of Guardian Scholars will be first-generation graduates. The 2018 Guardian Scholars scholarship committee was chaired by Promises2Kids' Board Member, Vivianne Villanueva Dhupa. Another member of the committee was Sandra Michel, a former foster youth and Guardian Scholar Alumni. After spending eight years in the foster care system, Sandra was accepted to Promises2Kids' Guardian Scholars in 2012.
Tonya Torosian, CEO of Promises2Kids said the scholarship program offers the consistency necessary for youth to reach their educational goals placing them on the path to self-sufficiency for years to come."
Torosian said at current funding levels, the program is limited to how many youth it can serve and that it can only accept half of the applicants that apply. Visit promises2kids.org.
• • •
Mama's Kitchen's Executive Director Alberto Cortés was named San Diego Pride's Community Grand Marshal. San Diego Pride's annual festival was held recently in Balboa Park. Cortés has served as executive director of Mama's Kitchen for 16 years where he oversees the nonprofit's efforts to support the nutritional needs of people living with critical illnesses, including HIV, cancer, congestive heart failure, and diabetes by providing home-delivered meals, pantry services and nutrition education services to over 1,200 men, women and children in San Diego County annually.
Cortés was also honored at San Diego Pride's Spirit of Stonewall Rally recently at the Hillcrest Pride Flag as one of six awardees who contribute significantly to the LGBTQIA+ community through their leadership, activities, and fundraising efforts.
In addition, Cortés has been chosen as a 2018 honoree for the California Legislative Lesbian, Gay, Bisexual, and Transgender (LGBT) Caucus. In June, he was presented with a resolution in commemoration of his accomplishments and contributions to the LGBT Community at the LGBT Pride Ceremony in Sacramento at the state Capitol.
Previous honorees include Executive Director of Equality California Rick Zbur, journalist Helen Zia, academy award winner Dustin Lance Black, and Bishop Rev. Yvette Flunder.
During the years, Cortés has served on many nonprofit boards of directors, including McAlister Institute, Being Alive San Diego, and the San Diego Men's Chorus. For the last six years, he has been a peer mentor to nonprofit leaders through the Fieldstone Leadership Network. Visit mamaskitchen.org.
• • •
With wildfire season turning into a year-round threat throughout the state of California, San Diego Gas & Electric recently awarded nearly $1 million in shareholder-funded charitable grants to 95 emergency response teams and other nonprofit organizations that have made it their mission to protect the region from wildfire.
Known as the SAFE San Diego Awards, this philanthropic initiative has earmarked shareholder dollars to ensure local Fire Safe Councils and Community Emergency Response Teams have the tools, resources, and staffing they need to plan, prepare, and respond to emergencies in every neighborhood and community in the region.
Volunteers and teams awarded grants from SDG&E represent organizations that play critical roles in helping to prepare our communities for emergencies and are often the first line of information and support in a crisis. Visit SDGEnews.com.
Send Kudos/Giving items to
sglidden@sdbj.com.