Edge Fattens Cryptocurrency Wallet
Tuesday, July 10, 2018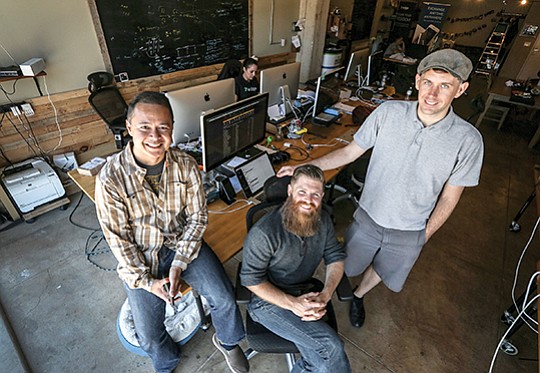 San Diego — Companies that focus on cryptocurrency have been on a roller coaster in recent years with major fluctuations in the price of the most popular iterations of digital money, such as Bitcoin and Ethereum.
In that time, Edge — a San Diego company that launched in 2014 as Airbitz — has broadened its business beyond its first product, a mobile wallet for cryptocurrency, to a blockchain-inspired data security platform for decentralized applications.
The company decided to rebrand as Edge after determining its technology had broader applicability, and would be of interest to companies that needed to secure data and wanted to do it in a decentralized manner — meaning that to hack it, a fraudster would need direct access to the device on which it was stored.
"We realized the big differentiator in our company and our product — how we secure those keys — is actually what brings value to not just us but also potentially to any company that needs to secure data for their users," said co-founder and CEO Paul Puey. "It is actually a complete paradigm shift in the way we secure data, not using but inspired by blockchain."
Edge refers to that storage method, which uses a network of computers rather than centralized servers.
The company is not, however, turning away from crypto: It recently added two new forms of digital money to its wallet — Monero and XRP (pronounced "ripple"). Among the other cryptocurrencies the wallet supports are Bitcoin, Bitcoin Cash, Litecoin, Ethereum and Dash.
Puey said Edge, the longest standing cryptocurrency-focused company based in San Diego, was the first to add those currencies to its wallet.
"I'm sure more will follow suit … but as they play catchup, we'll be integrating some newer (cryptocurrencies)," he said.
Edge was able to add Monero and XRP to its wallet ahead of companies with more mainstream multicurrency wallets because of the relationships it developed with software engineers at the firms behind those cryptocurrencies, Puey said.
The Airbitz app, which stored electronic payment information for bitcoin, was designed to be simple to use and familiar-feeling, he said.
"It's as if you were logging into a bank or PayPal," Puey said. "This was drastically different from old cryptocurrency wallets, which make you write down words or save a file on your computer or from your phone, and that's the complexity that we try and hide from the user."
In addition to storing the private keys that allow users to transact in cryptocurrencies, users can also transact between assets within the application, as well as buy and sell currencies.
Some of Edge's revenue comes from charging for transactions.
However, Edge also licenses out its technology for white-label mobile wallets for companies including the five largest ATM brands in the U.S., Puey said, and that business has brought in the majority of the company's revenue.
Puey said the company expects to boost its revenue through licensing to decentralized applications that launch in markets such as insurance and loans of its data security tools.
Since inception the company has raised about $2 million through a variety of avenues, including the Plug & Play incubator in San Francisco, an assortment of venture capitalists and angel investors and a round of equity crowdfunding, Puey said.
It is not yet profitable, but earning revenue of six figures yearly and entering its Series A financing round, he added.