TECH: BRAIN TAKES FUNDING ROLE, SEEKS TO BROADEN REACH
Brain, Savioke Team For Robot Evolution
Monday, July 9, 2018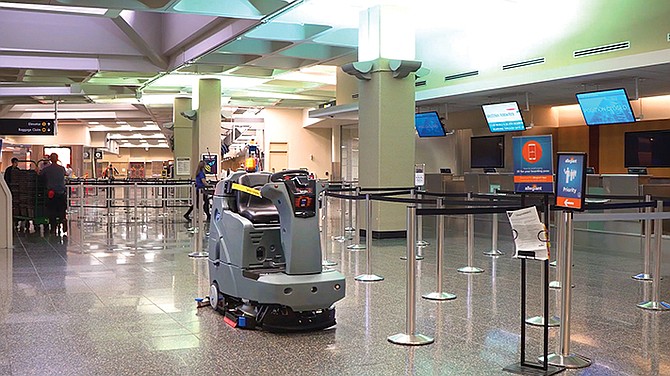 San Diego — Startups generally seek funding, not provide it.
San Diego artificial intelligence company Brain Corp., however, has teamed up with Silicon Valley-based robotics company Savioke as an investor as well as a business partner.
In late June Brain Corp., which was initially developed within Qualcomm Inc., announced it had participated in a $13.4 million Series B financing round for Savioke, which makes indoor service robots for hotels and logistics facilities.
BRAIN CORP.
CEO: Eugene Izhikevich
Revenue: Would not disclose
Total funding: About $125M over three rounds
No. of local employees: More than 150
Headquarters: Sorrento Valley
Year founded: 2009
Company description: Developed software that enables machines to navigate autonomously
The move is part of Brain's long-term plan to deploy its technology, which turns machines into autonomous robots, across a variety of industries.
CEO Eugene Izhikevich wants Brain to be among the beneficiaries of what he envisions as "tremendous upside" as Savioke scales.
"Why not take part in the success of this company?" Izhikevich said.
Brain joined other new investors in the funding round, including Swisslog Healthcare, NEC Networks & System Integration Corp. and Recruit, which brought Savioke's total funding to $31 million.
Brain's technology, until now, has been deployed primarily in floor scrubbers in industrial facilities. The company has partnered with original equipment manufacturers to integrate its software into machines driven by people, which allows tasks to be performed without manual control.
The Savioke deal is intended to broaden its reach beyond automated floor cleaning machines to robots in hospitality, logistics and — Savioke's next target — hospitals.
Partnerships Are Key
Savioke has agreed to license BrainOS, the company's platform for streamlining the development, deployment and management of robots.
The investment by Brain, which has raised about $125 million in venture funding, makes sense for a company looking to build an ecosystem in which its technology is in demand, said Steve Ardire, an AI startup advisor who follows the company.
"It is not unusual to create a war chest so they can make selective investments," he said. "When you're a leader of sorts like Brain Corp. is, it makes perfect sense. The name of the game is to stick to your competencies rather than being spread too thin."
Izhikevich said partnerships are key to Brain's continued growth.
"Today our brains are in commercial cleaning equipment in big-box retailers, in malls, in airports, at university campuses … the goal for us is not to build those machines ourselves, but to partner with manufacturers," he said.
Prev Next