ENERGY: ACTIVIST INVESTORS PUSH GREATER SIMPLIFICATION OF CO.
Sempra Announces Sale of Renewables As 'the First Phase'
Wednesday, July 4, 2018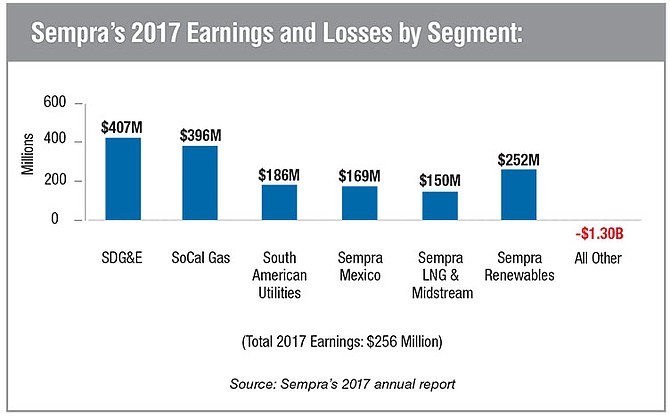 San Diego — Sempra Energy plans to sell its solar and wind energy generation businesses, as well as two natural gas storage facilities in the southeastern United States.
The San Diego business described the sales as part of an effort to sharpen the company's focus.
Sempra's (NYSE: SRE) board of directors approved the sales June 25. The corporation unveiled the plan June 28 during its analyst day in New York.
"This is just the first phase of our portfolio optimization, which we expect to continue in the coming months," CEO Jeff Martin said in a prepared statement. "We intend to continue evaluating our portfolio, looking for additional opportunities to create long-term value for all shareholders. We will pursue additional initiatives using a disciplined, phased approach, taking into consideration timing and market conditions."
Seeking Simplification
Also on June 28, a group of activist shareholders said it was disappointed in Sempra, citing a "lack of progress" in its negotiations with the company. Elliott Management and Bluescape Resources own 4.9 percent of Sempra stock, a stake worth about $1.5 billion.
The activists called for major turnover on the company board — the replacement of six members — and a simplification of the corporation's business, making their case public on June 11. The activists laid out their plan on a website called SustainableSempra.com.
Bloomberg reported that the two parties met June 25. In a press release June 28, the activists said they would evaluate Sempra's proposals with an open mind.
The Renewables Segment
The Sempra Renewables segment, which includes its solar and wind energy businesses, produced earnings of $252 million in 2017, up from $55 million in 2016.
Sempra Renewables has ownership interests and investments in nine solar projects in Nevada, Arizona and California. It has wind projects in eight states, including Hawaii.
Also included in the planned sale is Mississippi Hub LLC, an underground salt dome with 22 billion cubic feet of working natural gas storage capacity located near Jackson, Mississippi, along with related compression and pipeline facilities. Additionally, Sempra plans to sell the company's 90.9-percent ownership interest in Bay Gas Storage Co. Ltd., a 20 billion cubic foot natural gas storage facility near Mobile, Alabama. Both facilities are part of the company's Sempra LNG & Midstream unit.
Sempra Energy had $11.2 billion in revenue in 2017 and approximately 20,000 employees. Its 2016 revenue was $10.2 billion.
One of the activists' criticisms is that Sempra has become a conglomerate with disparate businesses "grouped together with no compelling strategic or financial rationale." They advocate a "back to basics" stragegy.