REAL ESTATE: REGION IS COMPARABLY AFFORDABLE TO OTHER CITIES, TECH HUBS
Push for Amenities Drives Up Rents, Reduces Vacancies
Sunday, January 21, 2018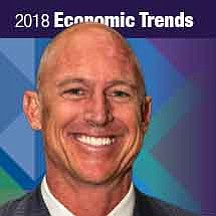 San Diego — Tom van Betten, Managing Director/Tenant Representation for Cushman & Wakefield, talked about the office market conditions, construction, amenities and adoption of co-working spaces.
Office Rents Continue to Rise:
Class A rents are at a record high at $3.32 a square foot, just beating out 2007's hyped-up $3.24. This is a pretty important for San Diego, because what is interesting is as these rents are unprecedented, they are only going up.
The new projects that are being built on expensive land and with high-design components, and most of them are planned in the pretty expensive submarkets like Little Italy, Del Mar, and downtown. These new buildings will be in the $5 to $6 range, which is double what is already our highest watermark.
However, it is still a discount to some other large port cities and tech hubs, namely San Francisco.
Vacancy Rates Continue to Decrease:
Our research department is tracking more than 3 million square feet of active tenants right now, over the next 24 months, and more than half of that is in central county. Many of those tenants can renew, but from a barometer of activity, this is a considerable number.
The vacancy rate market-wide right now is at 11.3 percent. The low of 8 percent was in 2005 at the peak of the last cycle, and we are well below the high vacancy rate of 2009. We see the vacancy rate continuing to go down and rents go up.
Really the only soft spot in the San Diego office market right now is Sorrento Mesa. It has a 19-percent vacancy rate and essentially still reeling from the Qualcomm layoffs from a few years ago.
I would say that downtown has got a pretty hot hand right now, but we need some large tenants that can pay big rents, and they are yet to show up.
On the construction side you can see at 1.3 million square feet we're 10 times more active than in 2010, but at little less than half of the peak in 2005. Of that, 1.3 million square feet, 58 percent is already committed for in terms of tenants.
Consistent Demand for Amenities:
Amenities, amenities, amenities. It continues to be what the tenants want and the talent wants. If you think about the statistics, 70 percent of employees don't feel engaged at work. Only 13 percent feel proud to work where they work. Many of today's workplaces are out of sync with the people that work there. And guess what? People avoid those and don't go to work for them.
That's not what we want. This means companies are not realizing their investment in their space.
The most effective workplaces offer a variety of settings aligned around people's activities and their needs and also increase the performance.
Trends in Office Design:
We want a performance-enhancing design — not a performance-enhancing drug — but a performance-enhancing design for your office space, and here are some of the current trends:
Unconventional workplaces. Think about your living room or a tasting room or something opposite from a typical "Dilbert" office environment.
Dynamic spaces. Think of this as the ability to move and morph your space — lightweight, moveable furniture with wheels, moving whiteboards, space that can be used for several different things rather than just one conference room that never gets used that you pay $4 a foot for.
Natural light. Natural light can increase creativity by 15 percent, but only 47 percent of employees have access to natural light. That will be something we see in all these new buildings we see, a lot more glass than they are concrete.
Terrariums are my big tip this year. We will bring some greenery inside inexpensively. So look into terrariums.
Coworking Space:
I have two different opinions on it. One, I'm seeing in the neighborhoods it is working.
I live in Solana Beach. There is a small coworking group that just doubled in size. They have a waiting list.
From an enterprise level, I'm seeing companies can be slow to adapt. I have international clients that have project-based work in various parts of the world, and they are not thinking about signing up with WeWork. They are asking us to go find them small spaces.