Month of a Million Meals Delivers the Million and Much More
Sunday, January 21, 2018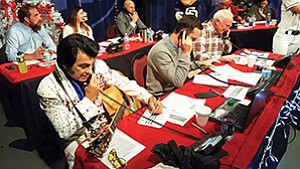 San Diego — Feeding San Diego announced that $1,055,634, equating to 4,222,536 meals, was raised during the fifth annual Month of a Million Meals campaign in partnership with ABC10 and Live Well San Diego. Exceeding the original goal by more than 3,000,000 meals, the campaign ran from November 18 to December 31, 2017, where San Diegans donated food, time and funds to support the one in eight San Diegans, including one in five children, struggling with hunger.
Vince Hall, CEO of Feeding San Diego said, "These meals will make an incredible difference for the 63,000 children, families and seniors we serve each week."
Started by Feeding San Diego, ABC10 and Live Well San Diego, the Month of a Million Meals campaign ensures that families in need receive nutritious food during the holiday season and throughout the year. In San Diego, nearly 400,000 children, families and seniors don't know where their next meal is coming from.
Joel Davis, vice president, divisional general manager at E.W. Scripps Co. said, "...We are so impressed with the generosity of San Diegans. They gave so much; we more than quadrupled the original goal..."
As part of the campaign, Feeding San Diego and ABC 10 rallied support from well-known San Diegans including Chad Butler from Switchfoot, former San Diego Mayor Jerry Sanders, chef Nick Nappi from "MasterChef, former San Diego Padres player Mark Loretta, former San Diego Chargers player Tim Dwight and many others. Visit feedingsandiego.org.
In related news: Feeding San Diego announced a partnership with Sababa Water. The water company is donating one meal for each water bottle sold in the San Diego area to Feeding San Diego to relieve hunger. Sababa Water is available to purchase at Food4Less, Albertsons, Vons, and Pavilions in San Diego. Visit sababawater.com.
• • •
Guild Mortgage's Guild Giving Foundation, a nonprofit organization created to expand its community outreach efforts across the country, has awarded 10 academic collegiate scholarships to students pursuing continuing education.
The Guild Giving Scholarship Program, which is in its first year, awards financial assistance to qualified members of the community, as well as Guild Mortgage employees and their dependents. Winners are provided $1,500 to be applied to accredited colleges, community colleges, trade schools, and undergraduate and graduate degree programs in any field of study.
Of the 10 inaugural winners, there was one student from San Diego County, William Lilley of Palomar College. The remaining nine were from other states.

Mary Ann McGarry, president/CEO of Guild Mortgage said, "We are committed to making an impact in every community we serve and we are proud to help support the continuing education of these talented individuals."
To be eligible, applicants must be a U. S. citizen or national and among other criteria, must also live within geographic reference to a Guild Mortgage branch or office in their city, state or county.
Guild Mortgage will be accepting scholarship applications for 2018 starting in mid-January.
• • •
Local small business leaders announced that they formed into a local nonprofit with a mission to unite small business owners in driving policy that improves San Diego's communities. The organization also announced its new issues-based website featuring its new brand. 
Business For Good San Diego — previously operating as the San Diego chapter of Main Street Alliance — is comprised of home-grown local business owners focused on issues unique to this region and led by a board of directors with more than 200 small business members.
The issue areas that Business For Good has chosen are immigration, government transparency, small business investment, homelessness and environmental health. The organization is led by Karim Bouris, who is now the executive director and the director of the nonprofit Multi-Sector Alliance at Partners for Progress San Diego.
In addition to its recent seminar about new laws affecting small businesses in 2018, the organization also hosts monthly general meetings and campaign-specific meetings that can be referenced on its new online calendar. Visit BusinessForGoodSD.com.  
Send Kudos/Giving items to sglidden@sdbj.com.