House Is Perfect 'Home Theater' for Viewing San Diego Life
Originally published January 14, 2018 at midnight, updated January 14, 2018 at midnight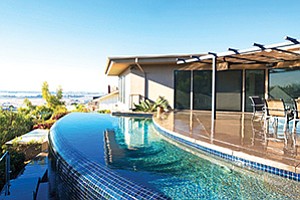 San Diego — Down a quiet cul-de-sac on a canyon hillside above Mission Hills Park, a sleek, contemporary home overlooking the San Diego skyline is immediately set apart from the surrounding ranch and Mediterranean-style homes that are commonplace to the area.

"You can see the "hip" of it from the moment you pull up," said Ken Baer, a realtor with Willis Allen Real Estate. "The glass-enclosed garage, a completely contemporary exterior, it's a very modern vibe, very unique."
Baer has the listing on the three bedroom, four bath home with 3,074 square feet on a 10,100-square-foot lot. The asking price for the home at 2021 Rodelane in San Diego is $2.499 million.
Baer, who has been in real estate in San Diego for 19 years, said the overall sense that most people get the first time they walk in is a calming, relaxing feeling that soothes the senses.
As soon as the front door opens, a wall of windows draws the eye toward the dynamic and ever-changing view.
"Once you get in there, you're watching the city, you see a just little bit of the freeways so you have that movement, you see the planes arriving, you see ships in the bay," Baer said. "You're just observing and observing."
Baer said the nighttime view is equally dramatic; the skyline comes to life and brings an energy to the house "that is pretty spectacular."
The home was designed in 1959 by mid-century architect Lloyd Ruocco, a revered pioneer in the development of post-war contemporary architecture in the San Diego area. Ruocco's design philosophy was to use the minimum amount of materials to create the "most interesting and functional enclosure of space," as quoted in a biography in Modern San Diego.
Another of Ruocco's signature talents was to site a property to follow the natural contours of the land to maximize views and to respect the structure's relationship to the outdoors.
"At the time, the El Cortez Hotel was the tallest building in the area," Baer said. "But the skyline and the bay was without a doubt what he framed all the rooms around."
Baer said the original footprint remains, but about 10 years ago the current owners wanted to modernize and expand the property. And, for this reason, Baer said that the home is not eligible for a historical designation or the Mills Act.
To preserve the spirit of Ruocco's original design, the homeowners contracted with local architect Marc Tarasuck, principal architect and head designer in his award-winning firm Marc Tarasuck AIA and Associates that was founded in 1979.
Prev Next