Corner Market Delivers Food Aid With Dignity, Determination
Originally published January 14, 2018 at midnight, updated January 14, 2018 at midnight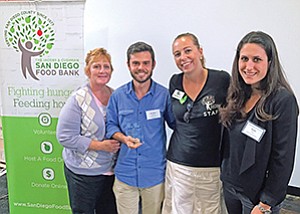 San Diego — Jewish Family Service of San Diego's Hand Up Food Pantry was awarded "Best Choice Pantry" for its Corner Market at the 2017 San Diego County Hunger Conference. Each year, the Hunger Conference, hosted by the Jacobs & Cushman San Diego Food Bank, convenes to discuss how to stop hunger in San Diego County, focusing on collaborative approaches, unified efforts and prioritizing those served.
"With more than 460,000 people struggling with hunger in San Diego County, our Hand Up Food Pantry plays a vital role in reducing the uncertainty many face when finding their next meal," said JFS CEO Michael Hopkins. "The more people we can help access healthy food, the better we can foster a stronger, more resilient community."
Led by the Hand Up Teen Leadership Program, JFS' Hand Up Food Pantry is a food assistance effort to help alleviate food insecurity in San Diego County. The pantry is a partner agency of Feeding America San Diego and the Jacobs & Cushman San Diego Food Bank.
In addition to the Corner Market, the Hand Up Food Pantry serves as the hub for all food assistance programs at JFS, providing more than 250,000 meals annually to locals in need.
"Hand Up Food Pantry is a shining example of a model client-choice food program. Any nonprofit in San Diego should visit its Corner Market to see what a difference such a dignified experience can make in the life of someone facing hunger," said Shelly Parks, director of programs at the Jacobs & Cushman San Diego Food Bank. Visit jfssd.org/food.
• • •
Home of Guiding Hands announced it received 13 new buses and six minivans (all wheelchair accessible) through a specialized transportation grant program administered by SANDAG. HGH provides specialized transportation services to individuals with developmental disabilities and significant physical and/or medical challenges.
Six of the new buses will replace ones purchased more than a decade ago. Seven will expand the Home of Guiding Hands transportation services to include more than 300 individuals daily.
SANDAG also awarded vehicles to Facilitating Access to Coordinated Transportation, Jewish Family Service of San Diego, San Diego Metropolitan Transit Systems, Noah Homes, San Ysidro Health Center, Sharp HealthCare Foundation and St. Madeleine Sophie's Center.
• • •
Mama's Kitchen announced that it surpassed its fundraising goal for the thirteenth annual Pie in the Sky Thanksgiving Bake Sale by selling more than 4,500 pies and raising more than $135,000 during the six-week sales period, with donations still coming in. Proceeds from pie sales will directly fund more than 46,232 free, hot and nutritious Mama's Kitchen meals, which help ensure no one living with HIV, cancer or other critical illnesses will go hungry in the San Diego community. 
This year's sponsors included Sycuan Casino, Wells Fargo, Jerome's Furniture, The Original Pancake House in Poway and Temecula and Bergelectric, with CBS Radio's KYXY 96.5 and Energy 103.7 serving as media partners. Visit mamaskitchen.org
• • •
The Maritime Museum of San Diego announced its mentorship program where you will work one-on-one with an experienced docent to build the necessary skill set to conduct tours. A docent engages with museum visitors, fielding their questions and sharing knowledge to enrich their experience. Membership in the Maritime Museum is required to be a docent. Contact training coordinator Jim Cassidy at jimdcass@aol.com.
• • •
The San Diego Foundation today announced that local companies and individuals have contributed more than $300,000 to the San Diego Regional Disaster Fund in support of Lilac fire recovery and rebuilding. The total amount raised to date includes about 200 online and text donations, as well as significant contributions from companies such as JPMorgan Chase & Co. and BD (Becton, Dickinson and Co.) and Stone Brewing.
The Lilac fire burned 4,100 acres and destroyed 157 structures, many of which were homes and have resulted in dozens of displaced individuals and families, especially seniors. The San Diego Foundation is still accepting donations for Lilac fire recovery and rebuilding at SDFoundation.org.
Send Kudos/Giving items to sglidden@sdbj.com.