ECONOMY: FROM LAND TO LAW TO LABS, MARIJUANA SALES BRING CHANGES, OPPORTUNITIES
Preparing For Pot
Monday, January 1, 2018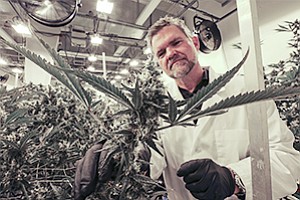 San Diego — Inside a 1,000-square-foot room, yellow incandescent light filters down on leafy green marijuana plants in neat rows. Soon, plants and lighting will be added vertically — like a double-decker bus — so operator Outco can increase production more than twofold.
Legalized recreational marijuana took effect Jan. 1 in California, and cultivators like Outco stick out as winners. Scores of other industries are expected to benefit as well in what is widely anticipated to be a multibillion dollar enterprise in the Golden State.
Increasingly, lawyers make sense of regulations. Real estate specialists scout industrial warehouses. Scientists test contaminants. Insurance brokers give quotes on insuring crops. Startups tap into new markets.
Founded in 2015, Outco gained a foot hold in the market. It operates a medical marijuana dispensary and indoor grow space in an unincorporated area near El Cajon.
The company anticipates $18 million in revenue in 2018, a 300 percent increase from 2017's total, driven by cranked-up production, in part to meet the demand for recreational marijuana. In addition, Outco plans to open new facilities, including two in Long Beach.
Property Search
Helping cultivators find commercial property represents a small but increasing chunk of business for Bobby Israel, vice president of La Jolla-based Legacy Commercial Management.
His services are sought after in light of limited real estate options. There are zoning restrictions on where cannabis businesses can set up, and growers need the right building infrastructure to run large amounts of power.
"It's an extremely tight market to find property that's allowable," Israel said.
The result: warehouse lease rates for commercial cultivation can be twice as high as other uses. Cannabis space runs from $1.75 to $4 a square foot, with the highest prices in La Mesa, which established regulations and issued permits earlier than the city of San Diego.
Landlords charge a premium for good reason. Cannabis businesses face extra scrutiny from neighbors, and landlords could run into banking issues. The federal government regards marijuana as an illegal drug and can pressure banks not to touch cannabis money.
Alternatively, buying a warehouse is a tall order since cannabis operators have to pay in cash, as few will lend on such deals.
Israel said lease rates and prices have gone up in the last year, and whether that continues is tough to say.

"It's a brand new market. It's a lot of throwing numbers in the air and let's see what sticks," he said.

Prev Next