FROM ENTREPRENEURIAL CLIMATE TO QUALITY OF LIFE, CARLSBAD CHECKS ALL THE BOXES FOR BUSINESS LOCATION
Tech Cos. Find Perfect Live-Work Balance
Wednesday, February 21, 2018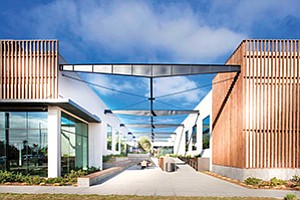 San Diego — Carlsbad is known as one of San Diego's largest tech hubs, but that's no longer simply because of its corporate successes, such as Viasat Inc.
Dozens of emerging companies started by local entrepreneurs have selected the city as a launching pad in recent years. From 2014 to 2016, nearly 100 startups were established in the coastal North County city, according to a report by San Diego's Connect.
Founders say the quality of life in the area helps attract and retain talent.
And companies, both established and emerging, are finding that real estate developers are responding to interest in more modern, flexible workspaces.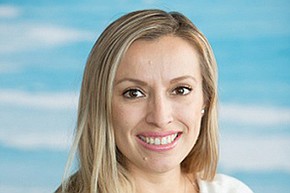 Upgrades and Renovations
"We're seeing a lot of commercial buildings being renovated and updated to attract new tenants, and we're also seeing ground-up development for industrial and R&D spaces," said Claudia Huerta, a member of Carlsbad's Economic Development team.
The Make campus, developed by Solana Beach-based Cruzan, sits 400 yards from the beach. Jim Mandler, who oversees property operations at Make and also spearheads the amenities arm of Cruzan, said the unique property, which has ample parking and easy freeway access, was developed with companies dedicated to providing a special place for employees to work in mind.
"We said, from a profile perspective, who are we building this for? What would they care about, and what would their employees value?" Mandler said.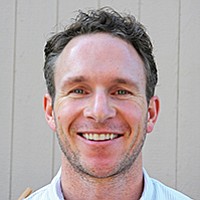 Encouraging Collaboration
Instead of building an office tower, Cruzan redeveloped the building, an industrial warehouse on Avenida Encinas formerly home to the Floral Trade Center, into an amenity-rich complex, with a café, gym and areas that encourage collaboration.
GoPro moved in first. Other tech firms have followed, including Verve, which does mobile marketing.
Kyle Slager, founder and CEO of Raken, a company that has developed an application that construction contractors use to develop and submit daily reports, also decided to get its first office space there.
Desirable Location
He said living in North County has proven a draw for employees.
"It's is one of the most desirable places to live on Earth, there's a lot of great talent, and there aren't hundreds of other companies to choose from," Slager said. "We've also added a handful of team members that moved here from other parts of the country in part because this is such a great place to live."
Some Raken employees live in downtown, but don't mind the trek north because of the beachside work site, he said.
Prev Next