PROPERTY: REDEVELOPMENT PRESERVES CLASSIC CHARACTER, WHILE FILLING MARKET NEED
Developer Gives Escondido Commercial Buildings a Second Act
Wednesday, February 21, 2018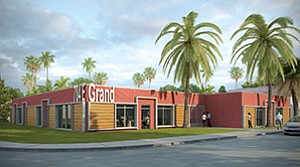 San Diego — Eerie was how Matt Belshin described the former bank building he bought three years ago along Escondido's Grand Avenue.
Built in 1951, the 11,720 square foot former bank had been converted into a medical building with a myriad small rooms for examining patients and miscellaneous equipment scattered throughout.
"It had eight-foot (tall) ceilings and so many rooms, you could really get lost," said Belshin, owner of Watermen Investments.
With the help of architect Kristi Byers, Belshin's company has transformed the building into an open, airy home for a charter school.
The building was gutted.
The lowered ceilings were removed to expose skylights with new ceiling heights of 19 feet, except for where a mezzanine that wraps around about a third of the interior.
The mezzanine was remodeled to create staff offices, a lounge and an open area.
Unlocking Its Charms
The door to the bank vault was removed and the vault converted into a combination conference room/classroom.
Floor coverings were removed to show off terrazzo tile where it was still salvageable.
"We love that project," Byers said. "Ultimately, we were able to shape the space to include study rooms, open study areas, offices for staff, and gathering areas for the students — almost library type areas."
The bank building at 355 E. Grand Ave., is one of three projects Belshin's company has undertaken to renovate older structures in or near downtown Escondido.
The others are office buildings at 235 W. Fifth Ave., and 704 E. Grand Ave.
"I'm really attracted to older buildings," Belshin said. "I love buildings that have character and a history to them."
Marc Posthumus, a vice president of Colliers International in San Diego, said Watermen Investments' Escondido projects fit a growing need in North County for updated office space at rents lower than what tenants might pay in new buildings.
"Watermen Investments saw that trend before anybody else," Posthumus said. "It's been timed well with the rest of the market as well." Belshin acquired the Fifth Avenue two-story, 12,504 square foot building in 2016.
Built in 1981 as general office space, "The former owners had been there a really long time and there hadn't been a lot of TLC and love shown toward that building in quite a while," Byers said. "We started with really gutting the second story."
Midway through the project, a mortgage company leased space in the building and wanted an open area on the second floor that doubles as a classroom by day and a space for entertaining by night.
Prev Next