SDSU Stadium Plan Headed For November Ballot
Thursday, February 15, 2018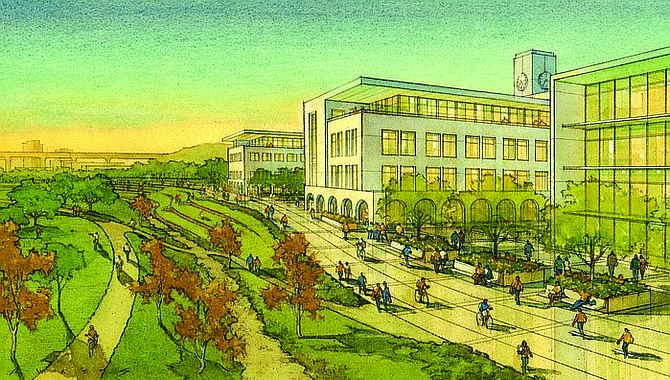 San Diego State University's plan to build a new stadium and satellite campus on the Mission Valley site of the former Qualcomm Stadium will go on the November election ballot.
The San Diego City Clerk's office has verified that Friends of SDSU University submitted petitions signed by enough registered voters to qualify for the ballot – putting SDSU in a head-to-head election fight with FS Investors for the rights to redevelop the property.
A competing SoccerCity proposal by La Jolla-based FS Investors previously qualified for the November ballot.
Whichever proposal gets the most votes wins.
Friends of SDSU led the petition drive for the project that has been dubbed SDSU West.
At least 71,646 signatures were needed, and the group reported it has collected more than 106,000.
"We are incredibly proud that the city clerk has cleared the way for SDSU West to be placed before voters this year," said Fred Pierce, a spokesman for Friends of SDSU.
"This important milestone moves us one step closer to making SDSU West a reality for San Diego State University and our city as a whole," Pierce said.
Estimated to cost $3 billion, SDSU's preliminary plans call for construction of a 35,000-seat stadium, 1.6 million square feet of campus/tech office space, 4,500 housing units, two hotels, about 95,000 square feet of retail space, more than 85 acres of open space, and four miles of hiking and bike trails.
FS Investors' SoccerCity $4 billion proposal includes a 23,500-seat professional soccer stadium that could be expanded to 33,500 seats, 4,800 housing units, two hotels, about 3.1 million square feet of office and retail space, two hotels and 60 acres of parkland.
FS Investors submitted petitions signed by more than 100,000 voters in May 2017.