Guild Mortgage's Acquisition Strategy Goes After Companies and Talent
Thursday, December 20, 2018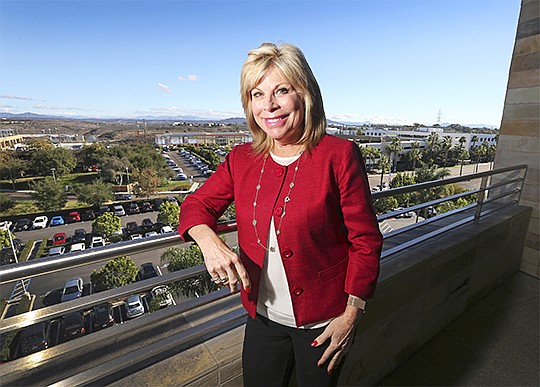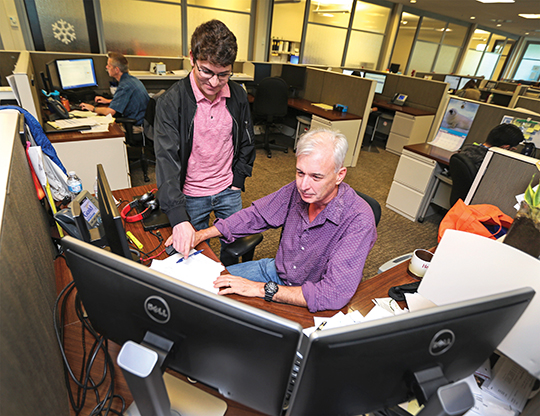 GUILD MORTGAGE
CEO: Mary Ann McGarry
Revenue: Undisclosed
No. of local employees: 732
Investors: McCarthy Capital of Omaha, Nebraska (75 percent), Guild senior management (25 percent)
Headquarters: Kearny Mesa
Year founded: 1960
Company description: Independent mortgage lender
As the mortgage market gets more competitive and the wider economy grows more volatile, Mary Ann McGarry and her fellow investors at Guild Mortgage are taking things in stride.
A privately held, independent mortgage lender, Guild has spent the last decade acquiring other companies in addition to growing organically. Loan volume in 2017 was $15.9 billion — 15 times greater than it was in 2007. By now the company has 4,000 employees.
In the years ahead, it may not only be the tangible assets that help the company. Intangibles will play a major role.
Consider longevity. The company has seen several market meltdowns, McGarry said during an interview in her office on a recent Friday. It didn't look as though the prospect of another financial crisis intimidated her.
Dealing With Adversity
"Living through all the market cycles — it's not new to us, and we know how to deal with it," she said.
Indeed, the company's acquisitions began during some bad times. Guild acquired Washington-based Liberty Financial Group, gaining branches in Washington and Colorado, in the recession of 2008.
"That's when we took advantage of the dislocation in the market and we grew," McGarry said. "And I think we're going to see a lot of that again. Many production-only companies are struggling today and they will either consolidate or exit the business, so we will be able to pick up a lot of talent in the next year."
McGarry said Guild has met with several companies that want to join forces. "We try to be selective," she said, adding that Guild looks for a good cultural fit.
And it's looking for controlled growth. Nothing big, nothing fast.
Knowing the Territory
Guild acquired four other companies between 2014 and 2018, gaining a foothold in markets in various parts of the United States.
Within a two-year span, it bought Comstock Mortgage of Sacramento, Northwest Mortgage Group of Portland, Oregon, and AmeriPro Home Loans of Austin.
Asked whether the company took on debt for the purchases, McGarry said Guild typically buys smaller lenders through asset purchases. "We're just kind of taking over their leases, their people and buying their assets. So it's not a big up-front drain, necessarily.
"And it's usually an earn out. So they (the sellers) make their money as we make money, and we're partners throughout the process."
Guild's latest acquisition — Cornerstone Mortgage, announced in January — is structured as a three-year earn out. St. Louis-based Cornerstone brought Guild 19 new offices in Missouri, Kansas and Illinois.
From Kearny Mesa, the company now supervises retail locations in 29 states. Guild has relationships with credit unions and community banks in 47 states.
There are bound to be obstacles in bringing companies together, McGarry said. It's how you deal with such obstacles that get you through.
Another intangible asset that McGarry deems very important is relationships. She broached the topic more than once during the interview. "We have strong relationships in the neighborhoods and the communities we serve," she said.
A Common Denominator: Private Ownership
Guild was founded in 1960 by Martin Gleich, who retired in 2007. That was the year that Guild management — including McGarry — led a buyout of the company with McCarthy Capital. The Omaha-based private equity firm owns 75 percent of the company. Guild executives including McGarry own the remaining 25 percent.
Most independent mortgage banking firms are privately held, according to the Washington-based Mortgage Bankers Association.
Guild writes new mortgages and services mortgages.
When originating a loan, Guild qualifies a buyer, handles the required paperwork, borrows the money from a warehouse lender, funds the loan and finally sells the loan on the secondary market. Investors include government-controlled companies such as Fannie Mae, Freddie Mac and Ginnie Mae.
"We don't hold the loans like a bank," McGarry said.
When servicing an existing loan, Guild manages the asset for its investor, collecting a small piece of the homebuyer's monthly interest payment.
"Our goal is to be Number 1 in customer retention — that when they want to move up, buy a new home or second home, re-fi and get money for college, they will come to Guild," McGarry said.
Need for Guidance
Though the process has become much more automated, McGarry sees a future of having people in the process of writing and selling mortgages. "It's not like buying a shirt," the CEO said. Home buyers frequently need guidance through all the options available to them, particularly buyers in the market for the first time
Much of Guild's business is first-time homebuyers. Working with them is rewarding and the clients are generally appreciative, McGarry said.
As first-time homebuyers each scrutinize their own finances, McGarry contemplates a financial picture with 200,000 customers.
It's a challenging time to be in the industry.
"When interest rates rise and re-fis typically leave the marketplace, then everyone's after the same purchase transaction," she said. "It makes it much more competitive to get that loan. Pricing becomes very compressed, margins are compressed and it's extremely competitive."
Climbing Mountains
McGarry has been at Guild since 1984. Trained as a certified public accountant, she worked with Peat Marwick Mitchell (now KPMG) before joining Guild as a supervisor in internal audit. She was next senior vice president of loan administration and information technology (her accounting degree from the University of San Diego included a minor in computer science). Over time, she worked her way into more responsible roles.
She also became the mother of four sons, now ages 32 to 22. Her oldest are twins. "I learned baseball, football, soccer, hockey," she said. "I didn't grow up with sports, but I sure ended up being a sports mom."
Her bucket list includes skiing in the Alps. This year, when she turned 60, McGarry took a memorable hiking trip from Prague, Czech Republic, to Salzburg, Austria, crossing the Danube along the way. The daily walks were 10-13 miles.
Locally, she prefers to hike Iron Mountain near Poway.
The scramble for parking at the base of the popular hiking trails might be similar to the competition in a tightening mortgage market.
For McGarry, the solution to the former problem is simple. It pays to get there early.
SEE MORE: Trailblazing Bank Finds a Way to Bring Its Identity Up to Date