TECHNOLOGY, TALENT KEEP AREA'S AGRICULTURE GROWING STRONG
Local Strengths Like Genetics, Big Data and Talent Power Agbio Scene
Sunday, December 16, 2018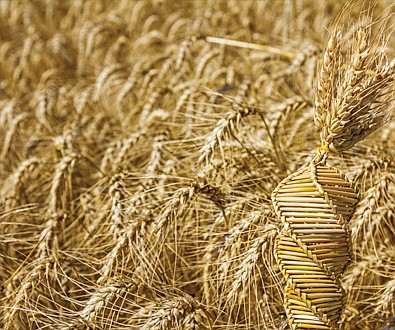 Decades ago on North County farms, the Ecke family turned the poinsettia into a top-selling Christmas plant. From former Ecke land, Cibus again wants to put the region on the map.

The company — which recently filed for a $100 million initial public offering — employs gene editing to boost crop yields and hardiness. Cibus and other San Diego companies are at the forefront of agriculture biotech, or "agbio," a space adding a new chapter to the county's storied agricultural past.
The region's agbio prowess runs from genetic sequencing to big data to plant breeding.
"Everything that we need is here," said Cibus CEO Peter Beetham, ticking off the reasons.
At the top of his list: heaps of talent in genomics, microbiology and plant cultures, coupled with older-school knowledge in areas like greenhouse management.
Speaking of which, the Sorrento Valley-based company leases greenhouses in several parts of North County. That includes from the Leichtag Foundation, an Encinitas nonprofit that bought the last chunk of local Ecke flower operations.
The Eckes' marketing — including donating the plants to the talk show "The Tonight Show" in the 1950s — and revolutionary breeding methods popularized poinsettias.
Like the Eckes, Cibus wants to push plant breeding forward.
Its gene editing approach selects desirable traits in a way that mimics nature, free from the label of genetically modified organisms, or GMOs. GMOs — which incorporate DNA from other species — fall under burdensome regulations.
Cibus soon will launch three canola hybrids, among other products, and plans to license crop traits to leading seed companies.
The region's mild climate suits crop experimentation.
"If you're in upstate New York where I started my career, that's not so easy," Beetham said.
Cibus uses sequencing chemistry from San Diego's Illumina, a mainstay of the industry.

Much ink has been spilled over Ilumina tools powering genetic services like Ancestry.com and clinical tests. Lesser known: researchers and farmers roundly turn to company technology for healthier dairy cows. And sweeter milk. And hardier crops.
Central to Illumina's agriculture technology is array genotyping, which examines specific parts of DNA, rather than an entire genome.
Livestock Genotyping
In a notable example, Illumina teamed up with the nonprofit Irish Cattle Breeding Federation to improve the genetic breeding of livestock in a program that started in 2015 and ends in two years.
Instead of the traditional method of eyeballing desirable traits, the program looks to provide quicker and more accurate breeding data.
Prev Next