ECONOMY: CRAFT BEER, TOURISM AND OVERALL PICTURE REMAINS BRIGHT
San Diego Economic Surveys Find Optimism Holding Fast
Tuesday, December 11, 2018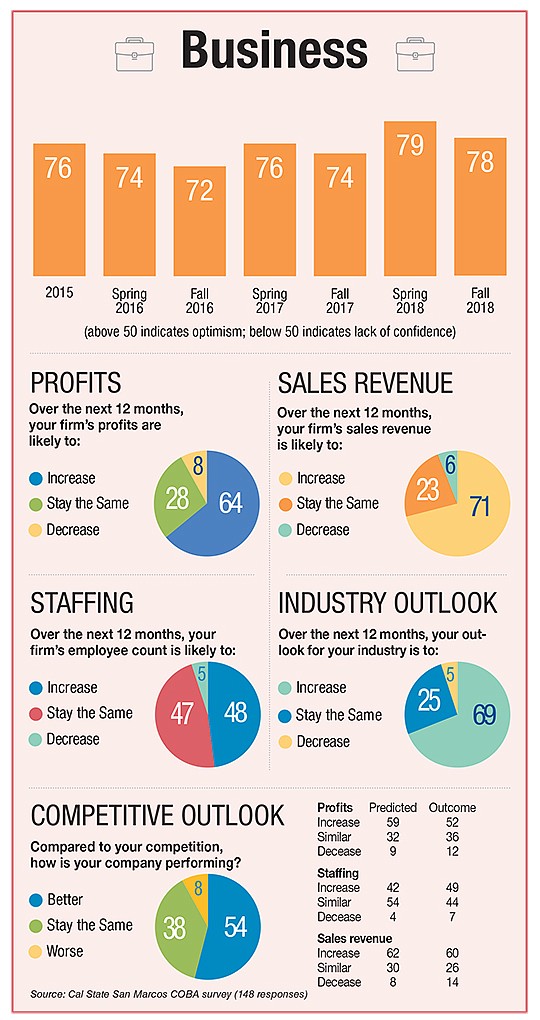 Although big beer has been lurking around the craft beer neighborhood lately, it seems the latter isn't too worried about the presence of the former just yet.
Similarly, although topics that can affect local tourism were tossed around this year, like stiffer regulations on short-term rentals, that sector isn't too nervous about a decline any time soon.
And, to hear insiders say it, business in San Diego overall seems to be pretty steadily on the up-and-up.
All this according to the findings in the latest San Diego craft brewers, tourism industry and business confidence indices developed by the Cal State University San Marcos College of Business Administration and the San Diego Business Journal.
"The results are positive, from the craft brewery standpoint, tourism and the overall business industry," said Joe Terzi, president and CEO of the San Diego Tourism Authority. "Most people said things would get better and very few pointed towards negative trends. I don't see anything on the report (indicating) things won't get better or stay the same."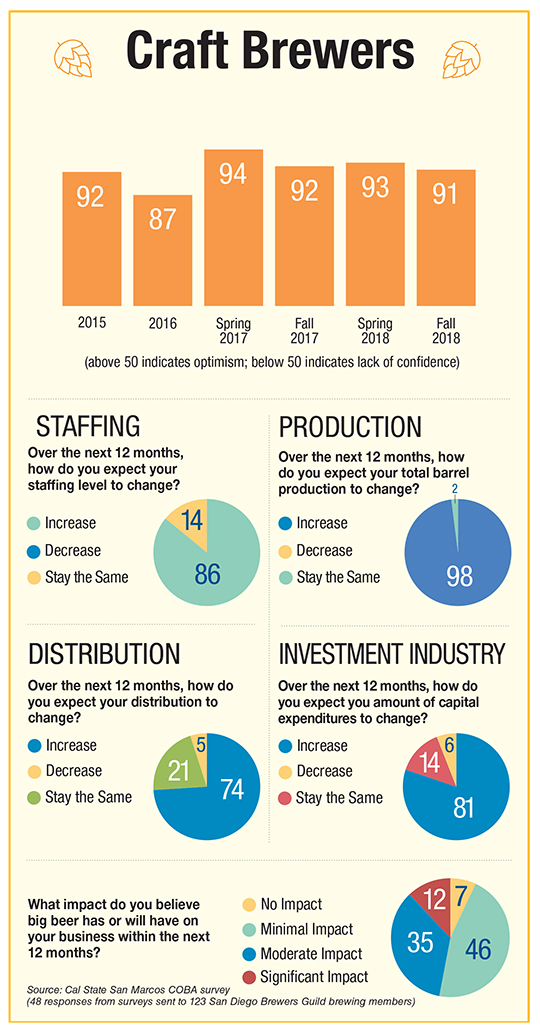 For the fall 2018 Craft Beer Confidence Index, a survey was sent to 123 San Diego Brewers Guild members, and 48 responses were received. For the Tourism Confidence Index, 48 responses were received primarily from members of the San Diego Hotel-Motel Association and the San Diego Chapter of the California Restaurant Association. The San Diego Business Confidence Index had 148 responses.
As to how the responses are rated: above 50 indicates optimism, below 50 indicates lack of confidence.
Some highlights from the surveys:
Overall, the fall 2018 Business Confidence Index had a score of 78, just one point down from the spring index, but higher than any report since fall 2015. When asked, over the next 12 months, whether the companies of those surveyed would profit, 64 percent of respondents said the number would increase, while 28 percent said it would remain the same and 8 percent said it would decrease.
Compared with the competition, when asked how their companies are performing, 54 percent said better, 38 percent said the same, and 8 percent said worse.
As for their outlook for the industry over the next 12 months, 69 percent of
respondents said they expect it to increase, 26 percent said they believe it would stay the same, and 5 percent said it would decrease.
The Craft Beer Confidence Index scored an overall grade of 91 for the fall, which is less than spring's 93 score but more than what it was in 2016.
Prev Next