HEALTH: GROSSMONT MAKES MOVE; PALOMAR CONSIDERS ELECTION CHANGE
Healthcare District Dumps At-Large Elections
Monday, December 10, 2018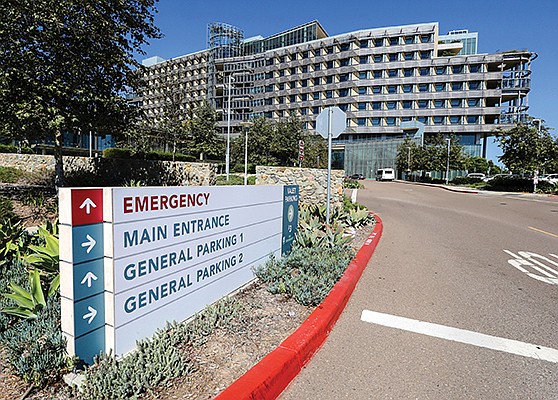 Under the threat of a lawsuit from a Malibu attorney, one San Diego hospital district is moving to a new type of election system, while another will consider doing so.

Grossmont Healthcare District's board recently decided to transition away from at-large elections, where all voters in the public healthcare district elect its five-member board. In future elections voters in geographic districts will elect their own representatives.
This month, Grossmont kicked off a series of public meetings on the boundaries of voting districts. In North County, Palomar Health's board Dec. 5 heard an item on potentially pivoting to district elections, due to go before the board again.

Like dominoes, cities, school boards, and — perhaps, less visibly — public hospitals across Southern California shifted to district elections, but not by choice.
Demand Letters from Lawyer
They've received "demand letters" from lawyer Kevin Shenkman and voting rights groups. Among the recipients: Tri-City Healthcare, San Diego's other hospital district, which in November held its first election under the system.
Shenkman has argued at-large elections dilute minorities' vote, running afoul of the California Voting Rights Act.
"Hospital districts have not been a focus for us, though I suppose it might look that way if you are just looking at San Diego County," Shenkman said in an email. "I think it's important that hospital districts have lawful elections and broad representation just the same as cities and school districts and water districts etc."
Hospital districts formed decades ago to fund hospital construction. Because they're subsidized by property taxes, board members are elected through a public vote.
"The negative impact of not having fair elections for hospital district boards is different than the negative effects with cities and school districts. And hospital districts often have a labor component to their politics that cities and school districts may not," Shenkman said.
$4.5 Million Settlement
Critics of district elections argue they pit communities against each other and overly emphasize race. Not that there's much room to push back.
Shenkman's effectiveness owes to a landmark $4.5 million settlement he won against the city of Palmdale. As part of the settlement Palmdale agreed to hold to district elections.
"I don't see an agency anywhere in the state of California that has won trying to rebuff something like this," said Barry Jantz, CEO of Grossmont Healthcare District.
Grossmont, representing 500,000 people across 750 square miles in East County, has until April to finalize a map of voting districts. Its first district-based vote will be in 2020.
After a Dec. 5 Palomar Health board meeting, the topic will be taken up again after new board members are sworn in mid-December, according to a Palomar spokesman.

Extra Time to Switch
A state bill passed last year gives cities extra time to switch to district elections. They have 135 days after being warned of a Voting Rights Act violation. The legislation also caps cities reimbursements to lawyers or groups that leveled a challenge at $30,000, provided a lawsuit isn't filed.
Grossmont just launched a campaign seeking public input on divvying up districts. Jantz said of the little feedback so far, a few have said the health care system shouldn't make the switch, not understanding it's happening.
In a September letter to Grossmont, Shenkman said Latinos represent 19.8 percent of the district, but it appears a Latino hasn't been elected to the board in two decades.

Shenkman stated the 2016 election was illustrative, as former La Mesa councilmember Art Madrid failed to win a seat. "Although he received significant support from Latino voters, Mr. Madrid was unable to secure a seat on the GHD board due to the bloc voting of the non-Latino majority."
The lawyer in a September letter to Palomar said the seven-member North County board doesn't have a Latino member.
"The contrast between the significant Latino proportion, and the near-absence of Latinos to be elected to the board of directors is telling."
Tri-City complied with Shenkman's demand more than a year ago, citing the desire to "avoid a waste of public funds" in a board resolution.