CEO Meets, Defeats Challenges, Turns to Helping Others
Sunday, December 9, 2018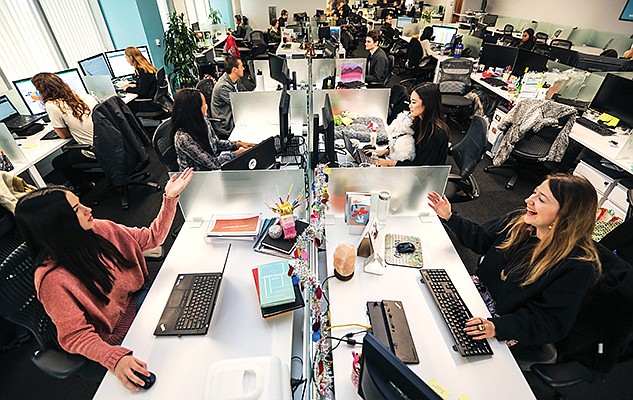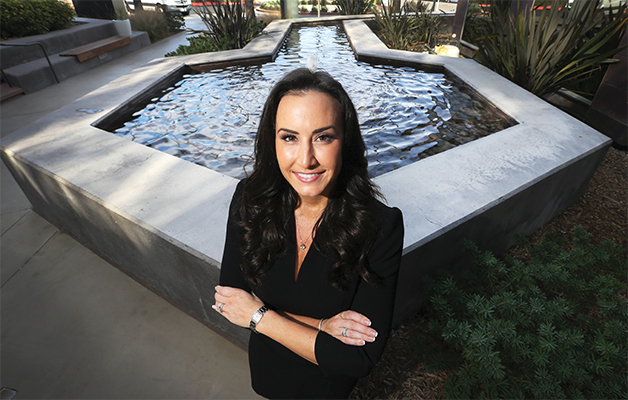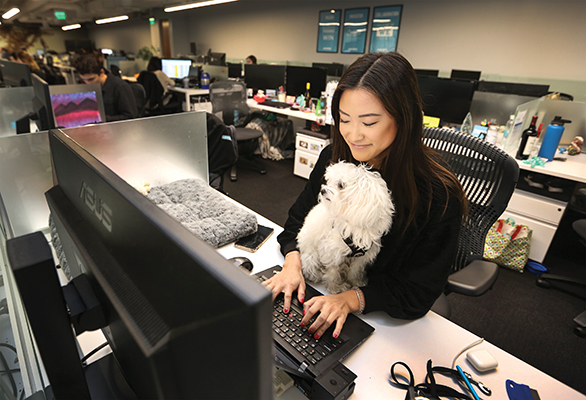 AMOBEE
CEO: Kim Perell
Revenue: About $1 billion in fiscal year 2018, according to parent company SingTel
Number of local employees: About 100
Investors: Sequoia Capital Israel, Accel, Cisco, Motorola Solutions
Headquarters: Redwood City
Year founded: 2005
Description: Amobee is a marketing technology company and subsidiary of Singapore-based carrier SingTel.
From the dot-com bubble burst to selling her company, Kim Perell has seen a little bit of everything as an entrepreneur. She moved to the San Diego area shortly after founding her first startup, which she grew into a global company through a series of acquisitions.
The CEO of Amobee, a Redwood City-based marketing technology company with offices in Sorrento Valley, got her first taste of entrepreneurship as one of the early employees for an online storage company called XDrive, a predecessor of sorts to Dropbox.
She was brought on as the company's director of marketing and sales in 1999, where she helped the business raise its first million. From there, she watched the company skyrocket — and subsequently crash.
At the time, Yahoo had just gone public, dot-com companies were booming, and many entrepreneurs were feeling optimistic.
"It was like being on a rocket ship," Perell said.
XDrive managed to raise $120 million in investment and ballooned to a few hundred employees. But as cloud computing didn't exist yet, the company's infrastructure costs were too high, and it was burning through the cash quickly. Perell was tasked with leading digital advertising efforts for the company to help offset its costs. At that point, it was too late.
"In an instant, my future, my career, my finances were gone, and everything that I thought was going to be the best thing that ever happened to me was the worst thing that happened to me," she said. "I had to lay off my friends, and then myself."
'A Bet on Me'
From rock bottom, Perell had to decide where to go next. Instead of taking the next desk job, she was convinced there was still a future in the internet. Before the Santa Monica company went under, XDrive had gotten hundreds of users, and lots of advertising interest.
"I had seen the opportunity," Perell said. "I believed the internet would become as great as it is today."
Perell was determined to start her own digital marketing company. There was just one problem: she had no money.
She approached her grandmother, asking for a $10,000 loan to start an internet company. Her grandmother didn't understand what the internet was, but gave her the loan anyways.
"She believed in me, she believed in my vision of starting something," she said. "It was great to have that person that stood behind you, regardless of whether they knew what they were investing in or not, they were really making a bet on me."
Perell used the cash to buy a computer, a GoDaddy account, and book a plane ticket to Hawaii, where her boyfriend and his family lived at the time. She started her company, Frontline Direct, from her kitchen table in Hawaii.
Another Path to Growth
Her grandmother's bet was a success: Perell steadily grew her company, adding more clients and employees. She and her husband moved back to San Diego, where she upgraded from her kitchen table to a windowless storage space in the back of a friend's company.
Ultimately, she grew her company to $100 million in annual revenue. She reached a critical juncture where she needed more funds to fuel Frontline's growth.
"In order to achieve my ambitions for the company as the market continued to evolve, I would need more capital," she said. "Do I raise more capital or do a strategic partnership and sell to a company that had already raised capital?"
Perell went with the latter, selling Frontline to a European digital advertising company Adconion Media Group, for $20 million in 2008. Then, she became CEO of that company.
From there, Adconion once again grew to an inflection point. The company sold to Amobee in 2014 for $235 million. Amobee bought both Adconion and Kontera, a digital marketing analytics company, after it was acquired by Singapore's largest carrier, SingTel.
Perell served as president of Amobee for two years, before she was named CEO. When Perell started, her focus was on search and display advertising. Now, the company is making its name in mobile advertising and social media.
Strategic Investor
"I've been venture-backed, I've been self-funded, and I'm currently owned by a strategic (investor)," Perell said. "I like long-term investments. … Obviously there's the balance sheet, but I think (being backed by a strategic investor) offers access, opportunity in markets we're not currently in, an understanding of markets we're not currently in and new product lines."
Perell added both deals worked because the companies she sold to had the same "North Star," or the same long-term vision.
"I'm still here because I found really good partners," she said.
Amanda Currie, senior vice president of marketing for Amobee, has worked with Perell for more than 15 years, from when Frontline was just a handful of people in a windowless room. She said it was the people, and Perell's focus on culture, that have kept her with the company for the entire journey.
"We've been acquired, and we've acquired other companies. There have been a lot of acquisitions and a lot of learning," Currie said. "It still comes down to getting people to unite. … In adtech, things change constantly, but you can adhere to what brings you together and your values."
Throughout the ups, downs and change through acquisitions, Currie said Perell maintained an unwavering focus that helped the company keep a steady course.
"She remains steadfast. She doesn't blink," Currie said. "That's the advantage you have when you've been a CEO as long as she has. You're going to face challenges every day."
Advice for Entrepreneurs
Remembering her beginnings at the kitchen table, Perell now looks to support young entrepreneurs with a vision — and the ability to execute.
"People need someone to make the same bet on them that someone made on me," she said. My intention is how do I help fund the next generation of entrepreneurs, and how do I help them learn some of the lessons I've had to learn."
To date, Perell has invested in about 70 companies. They range from bleeding-edge tech to beauty products. One of her local investments is Liveli, a brain health supplement company. In San Diego, she was one of the first investors for Liveli.
In September, she launched a seed-stage fund called the Execution Factor Fund, putting in its first million.
Riding Wave of Emerging Technologies
"I want to invest in products I believe in and people that can execute," she said. "Ideas are a dime a dozen. I'm looking for individuals that can out-execute that idea better than anyone else. And that's hard."
Though Amobee is headquartered in the Bay Area, Perell spends most of her time in San Diego, where her family resides. She continues to ride the wave of emerging technologies, determining which ones could change advertising.
"It's interesting looking back," she said. "I think we're still in the infancy of the internet. There's something new every day."