Biotechs Find Favorable Conditions in UTC As An Amenity-Rich Alternative to Torrey Pines
Thursday, August 30, 2018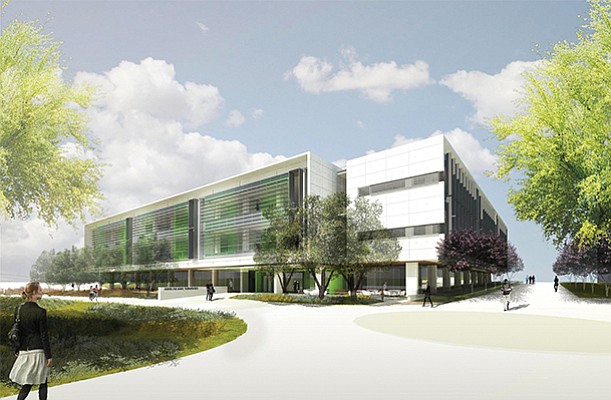 San Diego — When scouting where to consolidate San Diego operations, Takeda Pharmaceuticals put together a checklist. Most pressing: a plot that could accommodate 300 employees, near research institutions and other life science companies.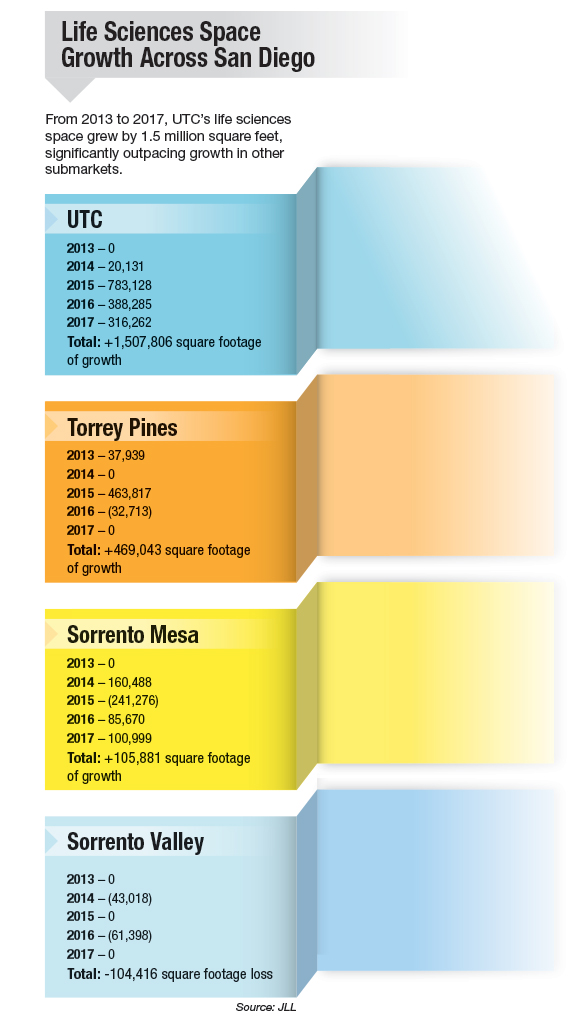 The list seemingly favors Torrey Pines, the historical epicenter of San Diego life sciences. But the company chose UTC, the fastest-growing biotech submarket in San Diego, which some say now rivals that of Torrey Pines in appeal.

In the prior three years, UTC added 1.47 million square feet of life sciences space, more than the three other San Diego submarkets combined, according to the commercial brokerage firm JLL. In addition, the area's total availability rate, 6.9 percent, was the lowest among local biotech hubs at the end of the second quarter.
Behind UTC's buildup: Illumina's expanding footprint and a few build-to-suit sites, in which developers built to a tenant's specifications. But most of all, landlords have converted underperforming or vacant office buildings into life sciences sites.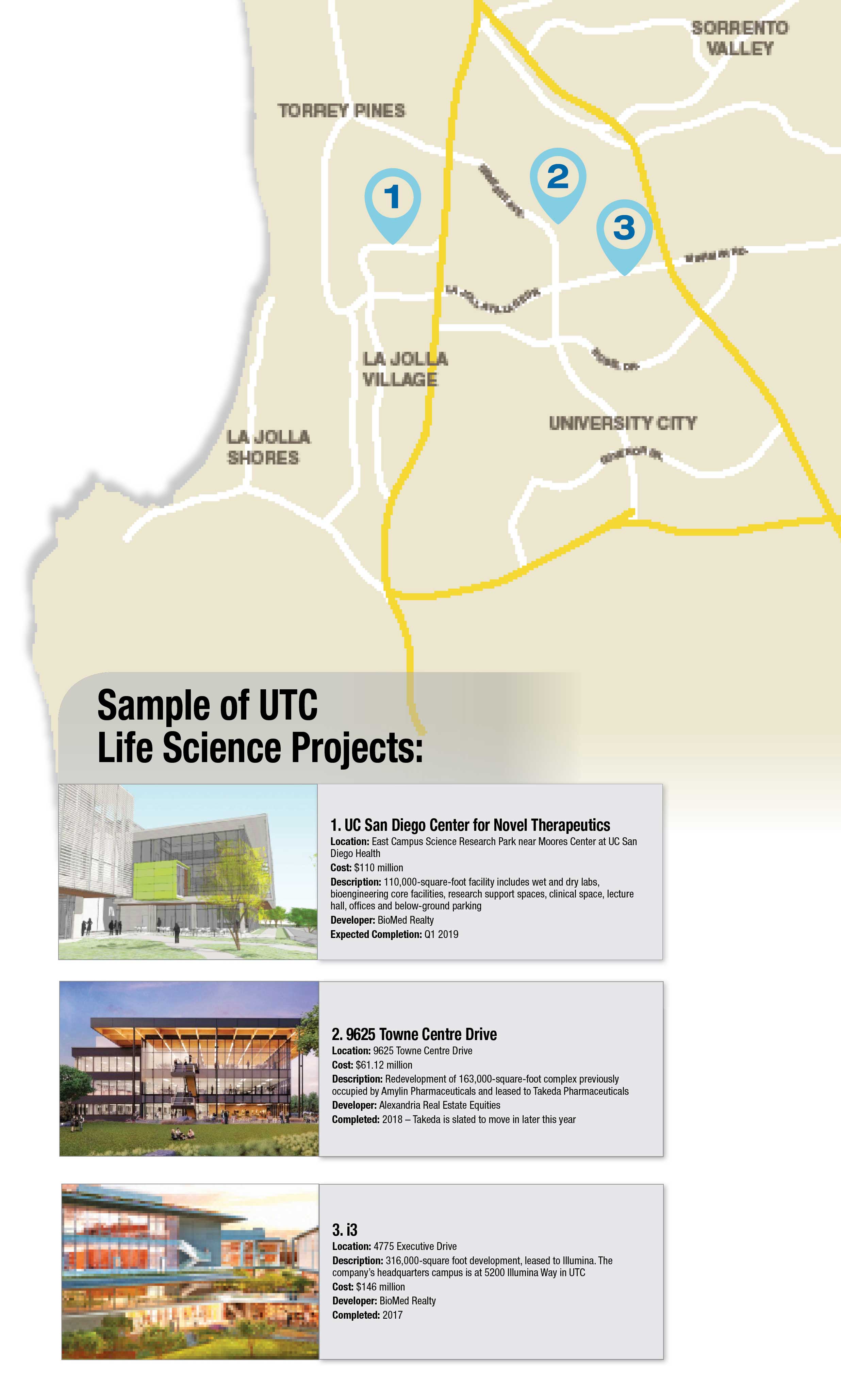 "The office market has been slower than the lab market. And so it's just a function of demand," said Grant Schoneman, managing director of JLL San Diego.
The conversions typically take six to 12 months, which pencils out for landlords because life science companies pay higher rents.
An outgrowth of Torrey Pines, Schoneman said UTC rose in desirability among life sciences in recent years. That's account of newer buildings — and amenities like the Westfield UTC shopping mall, hotels and restaurants.
Plus there's easy access to freeways, and the Mid-Coast Trolley extension will add a mass-transit option in a couple years.
These days UTC is often given equal weight to Torrey Pines, long the heart of San Diego biotech with a bustling neighborhood of companies and research institutions in walking distance.
While UTC has grown faster, Torrey Pines is still the bigger submarket. Torrey Pines has 5,919,231 square feet in life sciences space, versus 3,774,998 in UTC/Campus Point, according to JLL.
Earlier this year, rents for the two submarkets ranged from $3.85 to $4.50 a square foot, versus $2.75-$3.65 in Sorrento Mesa and $2.75 to $3.35 in Sorrento Valley, according to JLL.
"Put it this way, generally if a client is looking at Torrey Pines, generally they're going to look at UTC. If they're looking at UTC they're looking at Torrey Pines," Schoneman said.  
Illumina — whose firm grip on the genomics sequencing market sparked a string of expansions — has played an outsized role in UTC's growth.
Last year saw the opening of Illumina's 295,000-square-foot manufacturing center, complementing a 316,000-square-foot Illumina addition called i3.

Illumina leased i3 while under construction, an example of the emergence of speculative building, a sign of the hot market. Speculative construction is when a landlord — in this case BioMed Realty Trust — builds without having a tenant lined up.
Essentially, BioMed was banking, correctly, on surplus demand.
The i3 campus is among BioMed's local projects, a bet that the region's intellectual capital will keep churning out biotechs in need of office space.
"We're very bullish on the life science market in general and San Diego specifically," said Kevin Tremblay, senior director and San Diego market lead at BioMed Realty.
With life sciences increasingly clustering in UTC, the area is becoming more collaborative. That's key because discovering new medicines means leaving the ivory towers behind, said David Weitz, the head of Takeda California and global research externalization.
In December, Takeda is slated to move into its new 163,000 square-foot building, once the site of Amylin Pharmaceuticals' manufacturing plant.
"There are really strong life science company neighbors around us in the UTC site, and that reflects, I would say, the bigger life sciences footprint in San Diego that's now emerging," Weitz said. "It's great that we're able to be able to look not just in the very limited area of Torrey Pines, but also UTC as well."
Beyond UTC and Torrey Pines, there are life science hubs in Sorrento Valley, Sorrento Mesa and parts of North County. Even as rents rise, biotech hasn't crept too far out of these areas, according to real estate experts.
Weitz said landlords in UTC and Torrey Pines are willing to co-invest in new buildings, so it's not necessarily less expensive to build, say, east of Interstate 15.
"They're willing to make a deeper investment because they know that others will also want to be in that hub," Weitz said.
Japan-based Takeda established a San Diego presence in 2005 by acquiring Syrrx. The new spot consolidates two operations in Torrey Pines, with a campus environment feel to boot.
Larger biotechs looking to set up under one roof turn to UTC, which has larger spaces and less restrictive building rules than Torrey Pines. That's according to Greg Bisconti, a San Diego-based senior director in Cushman & Wakefield's global life sciences practice.
"UTC is where companies go to scale," said Bisconti. "Once your company goes over a 100,000 square feet, you really need to start looking outside of Torrey Pines." 
That said, Torrey Pines still has the advantage of proximity to research institutions, and more office options are expected to open up with Takeda exiting its Torrey Pines operations and Scripps Research consolidating.

The allure of being in an area that's responsible for so many breakthroughs can't be denied, as well.
"There's an older guard that still thinks that Torrey Pines is the only market to be in," said Ted Jacobs, also a senior director at Cushman & Wakefield. 
But, he added, UTC's pull is growing.