PRODUCTION: OASIS SEES INNOVATIVE ROLE IN SCIENCE AND TECH, INCLUDING AI
Heater Co. Has Right Material For Growth
Wednesday, August 29, 2018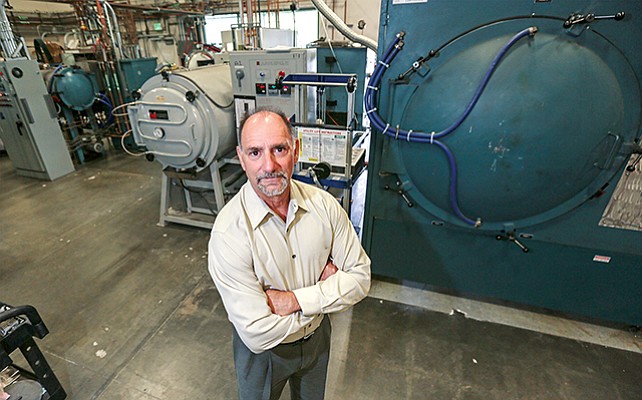 San Diego — Although Oasis Materials Corp. was originally founded in 2005, its president and founder, Frank Polese, considers 2012 the year his company officially started. That's because the self-proclaimed serial entrepreneur sold it shortly after launching it, only to rebuy it — and revive it — a few years later.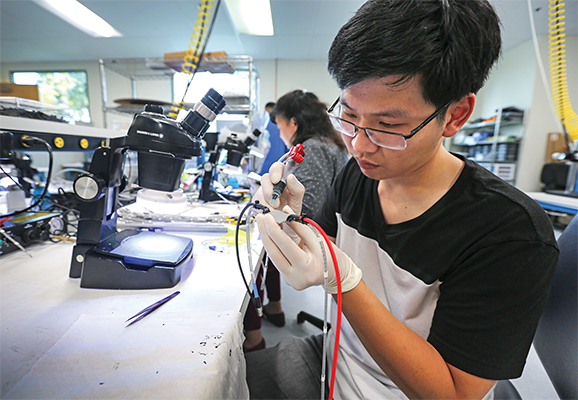 OASIS MATERIALS CORP.
President: Frank Polese
Revenue: $11.4 million in 2017
No. of local employees: About 100
Headquarters: Poway
Year founded: 2005
Company description: Maker of ceramic, temperature-transitioning, aluminum nitride heaters
"In 2005, the company grew really fast and within 30 months, I got offered a lot of money for it and sold it to Superior Technical Ceramics," said Polese, who received a degree in accounting and financing from Michigan State University in 1982. "But, over the next two and a half years, the owner of Superior passed, then the company went into a trust, the talent started leaving and by mid-2011, the company had seven to eight people left and one customer. So, I had a talk with the trust and bought it back at a big discount (40 percent) in 2012."
The Partners
With Polese back at the helm, along with partners Steve Nootens (vice president of sales and marketing) and Steve Scrantom (vice president of research and development), Oasis, which makes customized ceramic heaters for a slew of industries ranging from consumer electronics to packaging equipment, has grown to almost 100 employees and exports 80 percent of what it manufactures in its Poway headquarters, mostly to Asia and Europe. The company's annual revenue has grown significantly since the repurchase, as well. In 2014, Oasis made $4 million, up from $2 million in 2012 and $3 million in 2013. In 2015, it brought in $5.7 million and in 2016, it made $6.4 million. By 2017, that number had nearly doubled to $11.4 million. In 2020, Polese believes the company's revenue will be in the mid-$20 million range.
The reason for the company's success, according to Polese, is its focus on the customer. "When something goes wrong, you don't lie — you tell the truth and you tell them you are doing everything you can to fix it and you do everything you can to fix it," said Polese, who learned how to work with metal from his father. "If you focus on what's best for the customers long-term, you gain their trust and you work with them on developing long-term relationships, you will be successful focus."
Unique and Universal
It also helps that the product Oasis Materials Corp. makes is so unique and universal in function, according to Polese. Oasis takes aluminum nitride, a special type of ceramic material with high-thermal conductivity, and embeds it with tungsten, a metal that holds electrical power without melting. This combination allows any product to get really hot and then really cold, really fast.
"The aluminum nitride and tungsten expand at the same rate, so, it doesn't crack when it heats up," explained Polese, adding that heat either creates speed or slows it down. Think cellphones, when they sit too long under the sun and either slow down or shut off. Or vapes that need to heat up the cannabis but then cool off quickly. "You can put a lot of power in a product thanks to the ceramic heater, and it doesn't stress the body of the product or the function."
Polese adds his model for successfully growing a business has been crucial to the evolution of Oasis. His theory is: never borrow any money to start a company. "Banks don't loan money, that is a myth," said Polese. "You have to first sell it in order to then make it. What I suggest is make a power point, go to people you think would purchase what you're selling, and ask for conditional purchase orders. If you can't get it, that means they don't believe in you or in your product."
Many Paths for Company
Oasis' clients include Fortune 500 companies like Hershey's, Intel and Johnson & Johnson. As for the future, Polese believes there are no limits to where his innovative product can take him.
"We make heaters for silicon wafers, we make heaters for drug delivery systems, we make heaters for vape guys, for scientific equipment, for melting plastic," said Polese. "I'm currently making heaters for the next generation of computer chips, in particular the chips needed for artificial intelligence thermal compression bonding. Truly, our technology has no boundaries."