SOLANA BEACH PROJECTS' ECLECTIC DESIGNS FIT IN BY BRINGING THEIR OWN CHARACTER, STYLE TO THE MIX
Solana Beach Projects' Eclectic Designs Fit In
Tuesday, August 21, 2018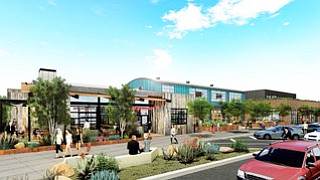 San Diego — A series of projects are planned or underway in the center of Solana Beach that in at least one case will remove what many said has become an eyesore.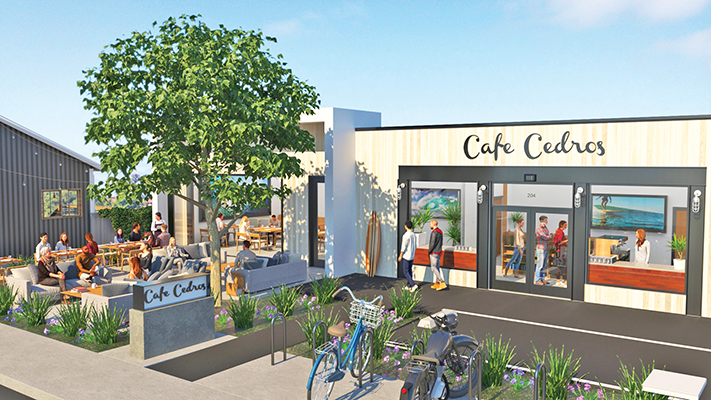 Encinitas-based Zephyr Partners is moving ahead with plans for a mixed use project — Solana 101 — on a 1.9 acre site on South Highway 101.
The site now includes two vacant single-family homes, a vacant coffee kiosk, and a former mobile home park with nothing left on it but concrete pads and has been a source of ongoing complaints from people who live and work nearby.
Finishing up is the renovation of a row of run-down buildings in the Cedros Avenue Design District that were used as mini-storage units and a plumbing contractor's office and yard.
330 Cedros
Expected to get underway soon in the Design District is construction of "330 Cedros," a 26,000 square-foot mixed use project by RAF Pacifica on a one-acre plot that had been Cedros Gardens until it closed in 2015.
The three projects fit nicely into the city's drive for projects that improve and take advantage of the city's walkability without causing a huge impact, said Mayor David Zito.
Solana 101 in particular "should be a really nice anchor with respect to what future development looks like on 101," Zito said.
The site is bounded by South Highway 101 on the east, Dahlia Drive on the south, South Sierra Avenue on the west and CVS Pharmacy on the north.
The 93,764 square-foot project will include 45,587 square feet of office space, 10,562 square feet of indoor restaurant space, 2,920 square feet of space for outdoor dining, 4,142 square feet of retail space, 25 condominium units in 33,473 square feet, and two levels of underground parking with 366 parking spaces.
Targeting the Younger Buyer
The condominiums will range in size from 940 square feet to 1,310 square feet.
"A lot of what we get in Solana Beach is 3,000 square-foot homes," Zito said. "This will be smaller units, hopefully targeted toward the younger buyer."
Solana 101 was approved by the City Council in July and must also be reviewed by the California Coastal Commission.
Zephyr did not disclose renovation costs, but company CEO Brad Termini said the project "fulfills the community's vision for Solana Beach and will be enjoyed for decades to come."
Zephyr's other projects include The Park Bankers Hill, a 54-unit condominium development overlooking Balboa Park in San Diego. The company also recently acquired the former Oceanside drive-in, but Zephyr hasn't indicated what it will do with the property.
Prev Next