TRAVEL: IN 2018, 77.5% OCCUPANCY EXPECTED; BIZ TRAVEL MAKES UP 10%
Hotel Industry Is Building on Its Solid Metrics
Tuesday, August 7, 2018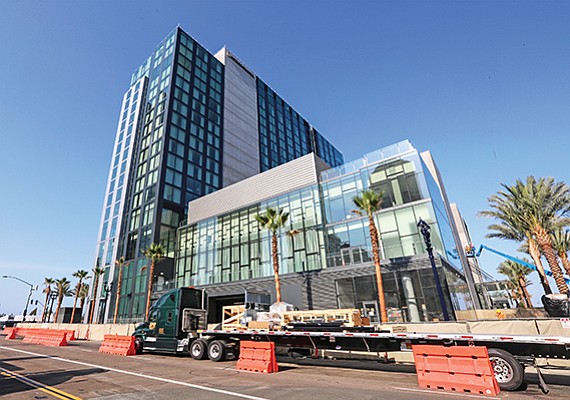 San Diego — On paper, San Diego doesn't look very good as far as the hotel industry is concerned. It only has two Fortune 500 companies (energy company Sempra Energy and chip-maker Qualcomm Inc.), which means not a lot of corporate travel coming in and going out of the city, thus, less business-trip-related hotel bookings. And, with limited overseas flights until recently, there has not been a lot of international travel to account for, either.
But, that isn't stopping San Diego and its tourism industry stakeholders from taking full advantage of what the county does offer, like great weather, tons of tourist sites and a plethora of corporate spaces, including the San Diego Convention Center. As a result, the demand for hotel rooms continues to rise and supply continues to increase with the construction and opening of new hotels up and down the coast, setting 2018 to be yet another chart-topping year in hotel development for the county.
The Properties
According to Atlas Hospitality Group, in the first half of 2017, 26 hotels opened in San Diego, and 130 hotels and 18,271 new hotel rooms were under construction. During the first half of this year, the number of hotels under construction increased 41 percent from the previous year to 183, and the number of new rooms under construction went up 42 percent to 25,872. So far in 2018, San Diego has added four hotels with 627 rooms by way of Legoland Castle Hotel (250 rooms), Willows Hotel & Spa at Viejas (159 rooms), Courtyard San Diego El Cajon (120 rooms) and TownePlace Suites (98 rooms), the latter two by Marriott.
On top of what has already opened, there are 21 hotels with 3,410 rooms currently under construction in the county with anticipated open dates between late 2018 and 2020, the largest of which is the 400-room InterContinental in downtown San Diego, slated to open in August. In the first quarter of 2018, San Diego hosted nearly 7.7 million visitors, according to the San Diego Tourism Authority. Consequently, hotel occupancy is expected to reach 77.5 percent in 2018, and 77.2 percent in 2019.
While business travel makes up 10 percent of total annual hotel occupancy in the county, which is about 20 percent to 25 percent less than other cities in California like Los Angeles and San Francisco, San Diego boasts terrific climate, says Joe Terzi, president and CEO of the Tourism Authority, which translates into hotel bookings and occupancies.
Prev Next