Estate Planning Startup Graduates Virtual Accelerator Program
Sunday, April 29, 2018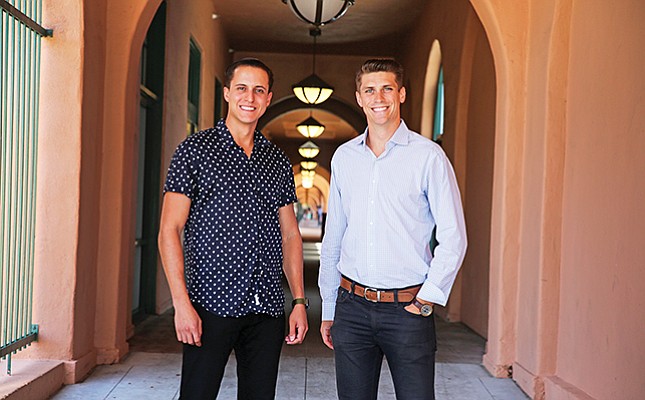 San Diego — San Diego-based Trust & Will, the software startup that targets millennials with its simplified legal forms for estate planning, spent the past three months in an accelerator program run by Techstars, the Boulder, Colorado-based organization.
But most of the work has been done at its headquarters in the Downtown Works coworking space in downtown San Diego.
That's because Trust & Will was accepted into Techstars' virtual program, called Techstars Anywhere. It was one of the organization's first programs that accepted companies from throughout the U.S. and allowed the teams behind the startups selected to work remotely.
According to Ryan Kuder, who manages Techstars Anywhere from his home base in San Diego, Techstars made its first go at hosting a virtual program in 2017 with four companies.
Lessons from that experience informed the design of the more recent Anywhere program, in which Trust & Will was one of 10 startups accepted.
Kuder, formerly vice president of marketing for San Diego startup success story ecoATM, also previously ran a Techstars program sponsored by Virgin Media.
Companies that are accepted into one of Techstars' 40 programs are offered a $100,000 convertible note, to which the accelerator organization contributes $20,000 in exchange for a 6 percent stake in each startup.
The three-month program includes mentorship, access to business services, investor connections and the Techstars' network, which includes thousands of mentors, investors, alumni companies and staffers.
While Trust & Will and the other companies in the Anywhere cohort were not required to relocate for the program, the teams met three times. The program kicked off with a week in Los Angeles, a mid-program gathering at Techstars' headquarters in Boulder, and concluded with a week in San Francisco, during which time companies recorded pitches for demo day and met with prospective investors.
Kuder said those meetings were spurred by the realization, revealed during the inaugural Anywhere cohort, that it is difficult to replace the types of relationships that can be built through in-person meetings.
Even so, "the way people work has changed over the last few years," Kuder said. Online tools mean collaboration and relationship-building across distances has become easier than ever.
And offering a remote program means companies run by people with other obligations — say, children — are more likely able to participate. That also increases the likelihood of applications from companies with strong geographic ties, such as an agriculture tech business with farmland to mind.
It also widens the pool of mentors with whom the companies can connect, since they are not limited by geography.
Trust & Will cofounder and CEO Cody Barbo said the equity trade has paid off in a number of ways.
"Techstars is insanely competitive and difficult to get into," he said. "That was a big validation for some of our investors."
During the program, Trust & Will raised more than $500,000, much of it from local investors, launched in 46 states, and "lined up partnership plans with some Fortune 500 companies," Barbo said.
Kuder said the cohort showed the benefits of a "mostly virtual" accelerator.
"I'm excited for the potential of Techstars Anywhere to scale," he said.