TECH: TERADATA TAPS ANALYTICS TO TRANSFORM ITS BIZ MODEL
Co. Can Park Data Or Help It Drive Solutions
Thursday, April 26, 2018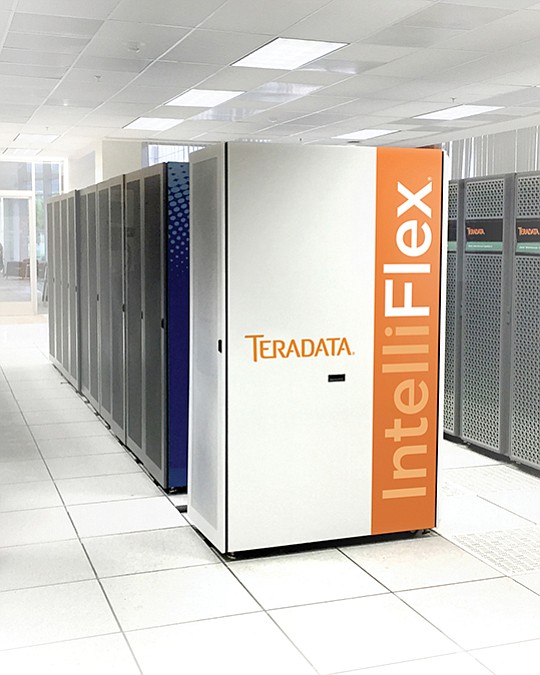 San Diego — Two rooms at Teradata Corp.'s offices in Rancho Bernardo, one of the publicly traded company's largest campuses, provide a quick visual approximation of the transformation the company is undergoing.
One houses rows of servers.
The other, dubbed Pulse, has a wall of monitors tracking real-time data — lots of it.
"We're no longer a company that's focused on just selling hardware, just selling infrastructure and services," said Reema Poddar, Teradata's senior vice president of product development. "We're more often partnering with our companies at the C-level, because that's where business drivers come into play."
It's the age of Big Data, and Teradata (NYSE: TDC) is in the midst of a bid to reinvent its reputation from that of a hardware firm to an analytics provider — and while based in Ohio, with offices in 44 countries, its large San Diego campus in Rancho Bernardo seems to be the nerve center of its ambitious transition plan.
Historically, Teradata has been known for its "data warehouses," systems used by big-business customers to crunch data and extract actionable insights.
Analytics Solutions
Now, as startups without legacy costs look to provide analytics solutions, too, Teradata is looking to rapidly leverage its historical know-how in an increasingly cloud-centric world with its own web-based offerings.
Teradata has been around since 1979, when it was launched in a garage in Brentwood. In 1991, the company was bought by AT&T and NCR Corp., a then-recent acquisition of AT&T's. Five years later, as part of NCR, Teradata became part of an independent publicly traded company when the firm spun off from the telecom provider. The companies split in 2007 and the Teradata business became a standalone company. Teradata then made a series of acquisitions in marketing applications, but the company sold that business in the summer of 2016 and turned its focus to analytics offerings.
Diverse Customer List
Teradata's customer list as of the end of 2017 cut across all industries; it was in business with tech giants such as Apple and Netflix, manufacturers such as Caterpillar and Ford Motor Co. and a range of retailers including Macy's and Wal-Mart.
The company employs more than 10,000 people, including roughly 1,000 in San Diego.
Teradata stores and crunches information, but it increasingly is looking to team its consultants, who are domain-area experts as opposed to strategy-focused, with its customers' leadership teams to unearth more salient business insights from the huge amounts of data it handles.
And it is offering subscriptions to its cloud-based platform, which allows entry to its services at a lower price point than buying a license.
"People are now just renting the software as they need it, because they can store everything on the cloud, all their machines can access it and you can then go use the application as a service and pay for what you use," said Murray Jennex, a management information systems professor at San Diego State University's Fowler School of Business.
As web-based services became more popular, Teradata faltered as its more expensive option for companies looking for analytics became less attractive, he said.
At the end of 2017, Teradata reported revenues of $2.16 billion, 7 percent lower than in the year prior, which the company attributed to the sale of its marketing applications business the year prior as well as an increase in subscription-based transactions, which bring in revenue over time rather than all at once.
The success the company has found growing recurring revenue via subscriptions to and rentals of its cloud-based products spurred Bernstein analyst Zane Chrane to upgrade his rating of Teradata stock in a March 5 research note.
"The company has also demonstrated better than expected customer retention, despite strong pricing pressure from cloud and open source vendors, as evidenced by strong growth in maintenance revenue," Chrane said.
Leading the cloud strategy at Teradata is Marc Clark, who works at the Rancho Bernardo campus. He joined Teradata about four years ago, around the time when customers, including Netflix, were looking to transition to a cloud-based system from Teradata's application.
In response to growing demand, the company provided a handful of customers with customized cloud offerings.
"Executive management made the decision that we needed to make this more than just a hobby and standardize it," Clark said.
Cloud Infrastructure
Then, about two years ago, the company began hiring people who had worked at the biggest names in cloud infrastructure, including Amazon and Microsoft.
"We started to merge our robust analytics capabilities with some really robust cloud capabilities, from dev ops and engineering and those types of things," he said. "In the last two years we've seen an acceleration of our customers coming on to cloud."
Oliver Ratzesberger, previously Teradata's executive vice president and chief product officer, was tapped earlier this year as the company's first chief operations officer. He's based in San Diego.
So is Suzanne Zoumaras, chief human resource officer, who joined the company in 2016.
Martyn Etherington, Teradata's first chief marketing officer, joined them on the locally based leadership team about six weeks ago.
Etherington was previously based in Texas, where he was CMO of Cisco Jasper, Cisco's internet of things platform provider.
When a recruiter came calling about the role at Teradata in early 2018, Etherington said he initially dismissed the potential job.
"I competed against Teradata 20-odd years ago, so my perception was jaundiced by Teradata as a data warehouse company," he said. "Then I started to see they had people like Oliver, Suzie — had basically revamped the whole leadership team — and the stock market performance was just coming out of the trough."
Teradata stock passed $40 per share in April, a price point at which it shares last traded in the spring of 2015 before falling into the low $20s in the start of 2016.
"From the outside looking in, you think, a 40-year old company … this company moved quicker than a very-high flying company I won't name in new media that I was talking to from September onward," Etherington said.
The first call he received about the job was Jan. 2. The position was his by February.
"That was another indication of the new Teradata," he said.
Revitalize the Brand
Etherington said he sees a major opportunity to revitalize the Teradata brand to ensure customers don't react as he initially did when presented with a job opportunity there.
"How often do you get in your career an ability to be part of a journey to transform a company such as Teradata into an even bigger success than it's been?" Etherington said. "And I don't say that out of any sort of bravado or rhetoric, but based on the fact that we've got an installed (customer) base companies would die for. But we've allowed our competition to deposition us in the market. They've been saying, 'they're a hardware player, they're old, they're out of the game,' which in reality we have the best cloud story out there."
San Diego Strategy
Zoumaras, the HR chief, said concentrating company leadership in San Diego has been an intentional move, and a facet of the overall plan to reposition Teradata in consumers' eyes.
"We want to make a significant presence in California where we have access to the kinds of talent we think will help accelerate our business strategy, and so San Diego being the place where we've had the largest R&D footprint, as well as the place where we've got the facilities to support that, was the obvious choice for us," she said.
Etherington said his goal is to reintroduce the company to consumers as a "contemporary, West Coast innovation company."
"That's not saying anything bad about our past, but that's the way the market's transformed, and we'll transform with it," he said.