PROPERTY: PLANS EVENTUALLY CALL FOR 4,700 RESIDENCES
Affordable Housing Adds to Civita's Mix
Thursday, April 26, 2018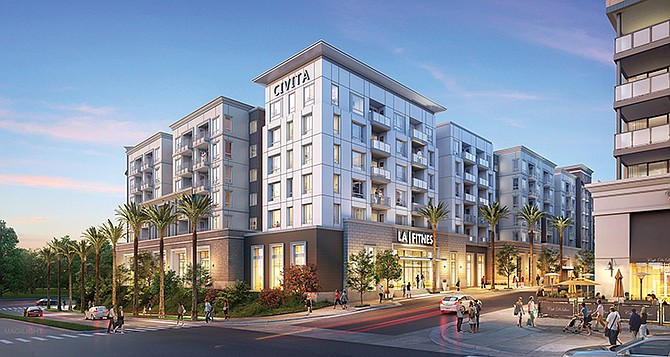 continued — For-sale projects under construction are Lucent II, a 66-unit project by Shea Homes; The New Home Co.'s Promontory development of 133 three-story and single-level attached homes, and Elevate by ColRich, 62 attached one, two and three story homes.
Market rate apartments completed include the 306-unit Circa and the 612-unit West Park, both built by Sudberry and the 150-unit Versa affordable complex built by Chelsea Investment.
"One of the things we worked quite hard on, particularly on the for sale side, is having variety both in unit size and price points," Sessa said. "We don't want them to be building the exact same thing. The goal is really to have a broad appeal to a whole bunch of folks. The community's large enough that it, frankly, creates a nicer variety when you have a lot of diversity in your resident mix."
Most of Office, Retail Space to Come
When Civita is finished, it will include about 4,700 homes, condominiums and apartments.
"Right now, we have about 1,600 units finished and occupied," Sessa said, adding that an additional 1,000 units, including the affordable housing project, are under construction or in design.
"We have another 2,000 units left to go, a mix of townhomes, condominiums and apartments," Sessa said.
Aside from the retail included in some of the condominium and apartment complexes, most of the up to 480,000 square feet of retail space and up to 420,000 square-feet of office space approved is still to come on the northeast side of Civita.
Plans call for that section to be connected by a pedestrian bridge to the Rio Vista shopping center across Friars Road.
Civita also will include $27.7 million in parkland, including a 14.3 acre central park that opened earlier this year.
Construction of a final stage of the central park will start later this year.
Prev Next