Sycuan Goes Extra-Mile for Transportation
Sunday, April 22, 2018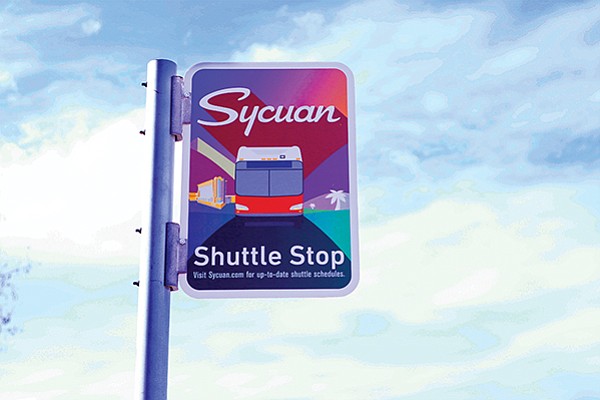 San Diego — Sycuan Casino revealed three new shuttle stops in March, as a part of the San Diego Metropolitan Transit System (MTS) naming rights agreement for the Sycuan Green Line.
The stops are trolley stations at Santee, El Cajon, and Grantville.
Sycuan Green Line is almost 24 miles long and runs from Santee until 12th and Imperial in downtown San Diego.
The MTS agreement was approved October 2017. In addition to naming rights, Sycuan shuttles can pick up passengers from four MTS transit centers — Santee, El Cajon, Grantville, and 12th and Imperial. Sycuan will also be able to change the name of three MTS stations. Other casino shuttles aren't allowed to pick up at MTS trolley stations as per the agreement. They can, however, pick up at MTS bus stops.
John Dinius, Sycuan general manager, said the increased shuttle service helps minimize traffic on Dehesa Road, one of main roads leading into Sycuan.
"We've got roughly 24 to 25,000 guests travel on the bus every month and about 7,000 employees to utilize that service as well," said Dinius. "So it not only demonstrates our respect to the local community, but it also gets vehicles off the road and less emissions released into the environment."
Sycuan will pay MTS $25.5 million as per the agreement. This will generate revenue for MTS operations over a term of up to 30 years.
The Sycuan shuttle program originally started in 2004. It's free for Club Sycuan members and Sycuan employees and runs seven days a week.