PROPERTY: SHORTFALL OF AFFORDABLE HOMES SAID TO BE 142,000
Developer's Affordable Housing Projects to Fill Crucial Need
Wednesday, April 18, 2018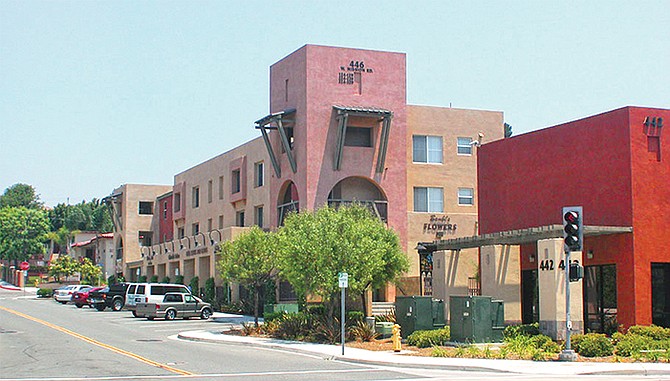 San Diego — San Diego County's supply of affordable housing is about to get a big boost through new construction and renovation projects planned by the nonprofit developer National Community Renaissance.
They include razing, rebuilding and enlarging the 136-apartment Villa Serena in San Marcos, building the new Encanto Village complex with 65 apartments in San Diego at 6323 Imperial Ave., and renovating five other affordable housing projects in partnership with Community Preservation Partners.
$70M San Marcos Project
By far the most ambitious is the $70 million project razing and rebuilding Villa Serena, a complex at 339 and 340 Marcos Street that brackets Marcos Street at Richmar Avenue.
"We're going to take it down to the foundation," said John Seymour, vice president for acquisitions and forward planning of National Community Renaissance.
"We would have liked to have done this with many of our other projects, tear them down and increase the density. We just didn't have the resources to do it," Seymour said. "A lot of these old properties have under-utilized land and space and were poorly designed."
Built in 1971, Villa Serena will be completed in two stages, starting with the 60 apartments on the west side of the project. It will be replaced with 85 apartments, many of which will be larger than the apartments they replace.
The first stage will include 18 one-bedroom apartments, 41 two-bedroom apartments, and 26 three-bedroom apartments.
The Amenities
A 1,933 square-foot community center also will be added to the complex as part of the $40 million first stage development.
"We're adding a significant amount of new bedrooms and great project amenities," Seymour said.
They include a new laundry room, tot lots, bicycle racks and "a whole bunch of things that come with new construction," Seymour said.
First stage construction should start by late 2019 or early 2020, Seymour said.
Construction of the $30 million second stage with a similar mix of apartments should start in 2021 or 2022, he said.
Villa Serena will remain an affordable housing project in perpetuity, Seymour said. The others will be designated affordable for 55 years under the terms of their financing, using tax credits.
The entire project will be LEED (Leadership in Energy and Environmental) certified, a designation indicating energy efficient buildings.
Totaling $125 million, the five projects National Community is undertaking with Community Preservation Partners include two in San Marcos and one each in National City, Escondido and San Diego, said Belinda Lee, Community Preservation project manager.
Prev Next