BREWING: SHE INCREASED MEMBERSHIP, BUILT RELATIONS WITH TOURISM GROUPS
Exec Director Helps Brewers Guild Draw Crowd
Thursday, April 12, 2018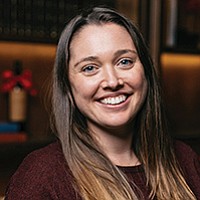 San Diego — When Paige McWey, 31, first started at the San Diego Brewers Guild as executive administrator, she was handed all of the nonprofit's most important files in a single box and a flash drive.
Five years later, McWey has established processes and programs providing the blueprint the organization needed to grow. And, today she is the group's first executive director.
"My role is to make sure that we continue to move forward as an association and continue to provide benefits and values for our members," said McWey. When she first started, the guild had 62 brewery members and 201 total members, including affiliate and allied members. Currently, the guild has 110 brewery members and 294 total members. San Diego craft beer has exploded throughout the years — in 2013 there were 70 breweries in San Diego and now there are more than 130. San Diego brands like Stone, Green Flash, and Karl Strauss Brewing Co. are some of the biggest beer producers in the U.S. (Green Flash announced April 3 that it sold its assets, including sister-brand Alpine Beer Co.)
McWey's interest in beer was sparked working in restaurants. While attending San Diego State University, she first was exposed to San Diego craft beer while working at Woodstock's Pizza. The restaurant would have "beer nights" every Thursday featuring craft beers. As a server at the now closed farm-to-table restaurant The Linkery in North Park, McWey was required to be an expert in the food, wine and beers served. The Linkery often took its employees on brewery tours to help them understand where the drinks would come from.
McWey decided she wanted to make craft beer her career because she was drawn to the industry's camaraderie and its impact on communities.
"Being born and raised in Vista, I have seen and experienced firsthand the impact craft beer has had on a city that, while growing up, was not a North County destination," said McWey. "Now I see people coming into my community to enjoy it – the craft beer, the atmosphere – and staying a little longer to see what it has to offer."

Acquiring the Skills
McWey attended University of San Diego's paralegal program after her undergrad, thinking she'd want to go into law. After managing a law firm office for two and half years, McWey said she gained the organization and data managing skills to aid her leadership role in the Brewers Guild.
Matt Rattner, co-founder of Karl Strauss Brewing Co., first hired McWey to work at both his brewery and as executive administrator at the Brewers Guild in 2013. A former guild board member, Rattner saw a lot of potential in McWey and planned to train her into becoming an executive director. Rattner met with McWey weekly at Karl Strauss' Pacific Beach office to coach her on corporate administrative structure.
San Diego Brewers Guild started in 1997 with a handful of members. A board of directors was eventually established but Rattner describes it as a part-time organization that did few events. The volunteer nature of the guild meant leaders were constantly trying to find time in their busy schedule to contribute to the organization.
With the executive and administrative arm the guild needed in order for San Diego to stay a craft beer destination, Rattner said the organization was able to do much more.
Taking a Much More Active Role
"The guild went from doing one event to doing events throughout the year, to doing education throughout the year, to working with the California Craft Brewers Association on legislative initiatives and feedback, working with local politicians here on issues that were affecting breweries — it really became kind of a big deal," said Rattner.
As membership at the guild grew, so did McWey's role.
"Then as my role with the guild grew, I started dedicating more time towards the guild and ended up moving fulltime over to the guild position," she said. "That's why I'm still based out of the Karl Strauss home office in Pacific Beach but I pretty much focus a hundred percent of my time on the guild projects and initiatives."
Executive Director
McWey eventually became the Brewers Guild executive director in December 2017.
McWey looked to other existing examples for inspiration to figure out how to best organize her own guild –California Craft Brewers Association, the Brewers Association and the San Francisco Brewers Guild in particular.
Once the San Diego guild matured to what it is now, McWey was able to provide her own counsel to other regional guilds. The Orange County Brewers Guild and San Diego Distillers Guild were some that reached out.
Tourism Ties
In her work for the guild, McWey is particularly proud of events and member programs that she's organized, and the relationships and increased communication she's fostered. There's the annual strategic retreat for the guild's board, an event in which current and future board members come together to plan for the following year. The guild built relationships with major players in San Diego tourism such as the San Diego Tourism Authority and the San Diego Hotel-Motel Association.
"Then another thing we have really been focusing on is member programs. So we're doing monthly educational sessions for our members," said McWey. "Also, communication with our members – letting them know exactly what's going on and making sure that we're relaying the message of a number of benefits and values."
Some benefits the guild offers members are educational seminars, retreats, organizing San Diego Beer Week, providing visibility for brewery members, and advocating brewery issues in government.
In the near future, the guild is working on a report with Cal State San Marcos on San Diego breweries' annual economic impact for 2017 and San Diego Beer Week in November. McWey also wants to continue to be a resource for brewers in a changing industry. She thinks that craft beer will continue to grow to meet consumer demand and breweries will continue to open and close – a normal cycle for any industry.
"It's going to be a little bit more challenging for some of the breweries as you continue to grow as an industry both regionally and nationally," said McWey. "We just want to continue to be that support system through those types of changes."
Being that support system for the entrepreneurial and collaborative craft beer community is her favorite part of being executive director of the Brewers Guild. It means working with every brewery in San Diego County, visiting their businesses, bringing people together for events, and also, enjoying good beer.