Badiee's Vista Industrial Project Targets Small- to Medium-Size Businesses
Wednesday, April 11, 2018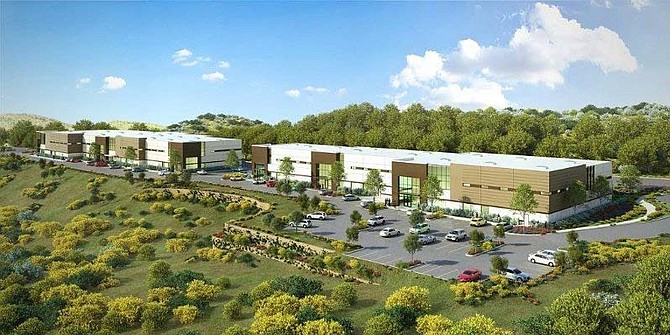 San Diego — Ben Badiee, one of the most prolific developers in North County San Diego, is chugging along with still more projects.
Badiee Development and Vista city officials broke ground recently on a two-building, 77,860 square-foot industrial project in the Keystone Industrial Park at 1398 Keystone Way on what Badiee said is the largest undeveloped piece of land in Vista, covering a total of 10 acres with about five acres of developable space.
Because it's on a knoll, the property offers and unobstructed view of the surrounding countryside with even a peek at the Pacific Ocean in the distance.
Several others have looked at the land, but environmental issues kept them from building on it.
"We were fortunate to have the pleasure of working with various members of the city of Vista, and through their cooperation with us and through much work, we have entitled the project," Badiee said.
Vista Mayor Judy Ritter, in a statement, said the project "will create a new place for forward-thinking companies with high-paying jobs to call Vista home."
This comes as Badiee is wrapping up work on a 212,088 square-foot industrial project in Escondido leased to the Atlanta-based Veritiv business-to-business packaging company and planning still more projects in Carlsbad.
"We've got our hands full, for sure," Badiee said.
San Diego County "is a great market," Badiee said in explaining his ongoing development drive.
At some point, the market for industrial and office property could soften, "but it will never go away," Badiee said.
"If the intention is to build and lease and you have a long-term horizon, I don't know a better place to develop that in Southern California and San Diego," Badiee said.
His latest project in Vista is targeted at small-to-medium companies.
It will consist of a 30,000 square-foot building and a separate 48,000 square-foot building.
Each building will have roll-up doors, dock-high loading areas for easy delivery and minimum 26-foot clearances, he said.
The smaller building can be divided into sections to handle three tenants and the larger one can be divided to handle four tenants.
Each building also could be used for a single tenant, but Badiee figured that by designing them so they could be divided into sections that he would fill a void in the market, adding that most of the new buildings in North County are targeting single, large tenants.
"It leaves a vacuum for all the small-sized and middle-sized companies that are San Diego based and they want to be in a brand new building that can accommodate their growing business and can provide a state-of-the-art, industrial, innovative space," Badiee said. "We like to provide new spaces for local companies that want to grow and expand in this market."
No one has yet signed to lease space in the Vista buildings, but Badiee said he's in talks with companies involved in robotics, injection molding and beer brewing.
Leasing is being handled by Conor Boyle of Colliers International San Diego Region.
Also working on the Vista project are Smith Consulting Architects and TFW Construction as the general contractor.
In Carlsbad, Badiee said he expects to break ground on a 120,000 square foot self-storage project in Carlsbad Oaks North Business Park within the next three months or so and a 50,000-plus square foot manufacturing building, also in Carlsbad Oaks North.
Although most of Badiee's projects have been in North County, he said he's also working on a deal for a seven-story, multifamily project in downtown San Diego's East Village.
He declined to give any details because negotiations on the project are
ongoing.