TECH: POLITICS, IP DISPUTES, ACQUISITION MUDDLE DEALINGS
Qualcomm Navigating Hazards of China Business
Wednesday, April 4, 2018
San Diego — Qualcomm Inc.'s footing in its most important market has gotten a little shakier lately as the Trump administration's confrontation with China over intellectual property rights and national security threatens to disrupt two sets of negotiations vital to the company.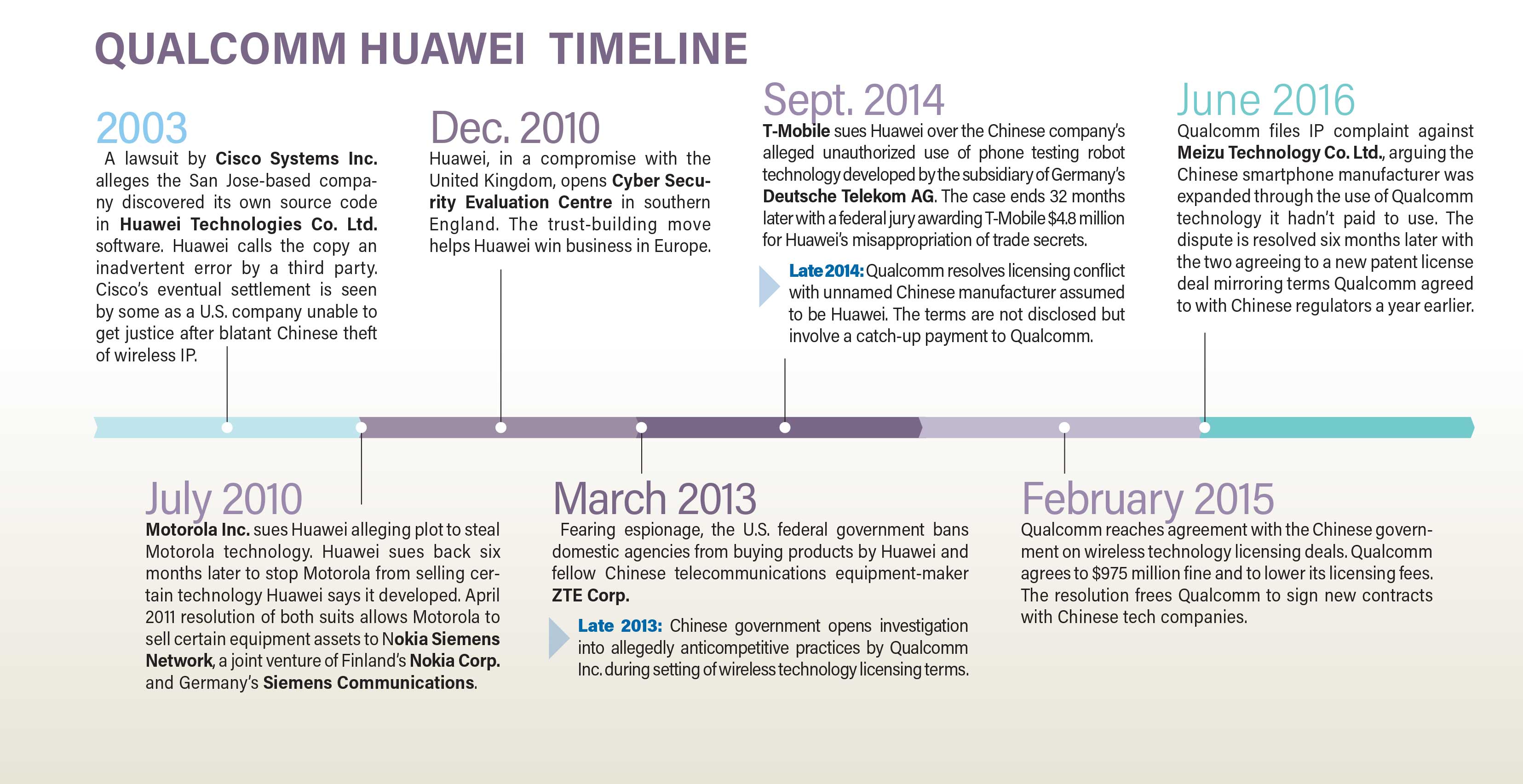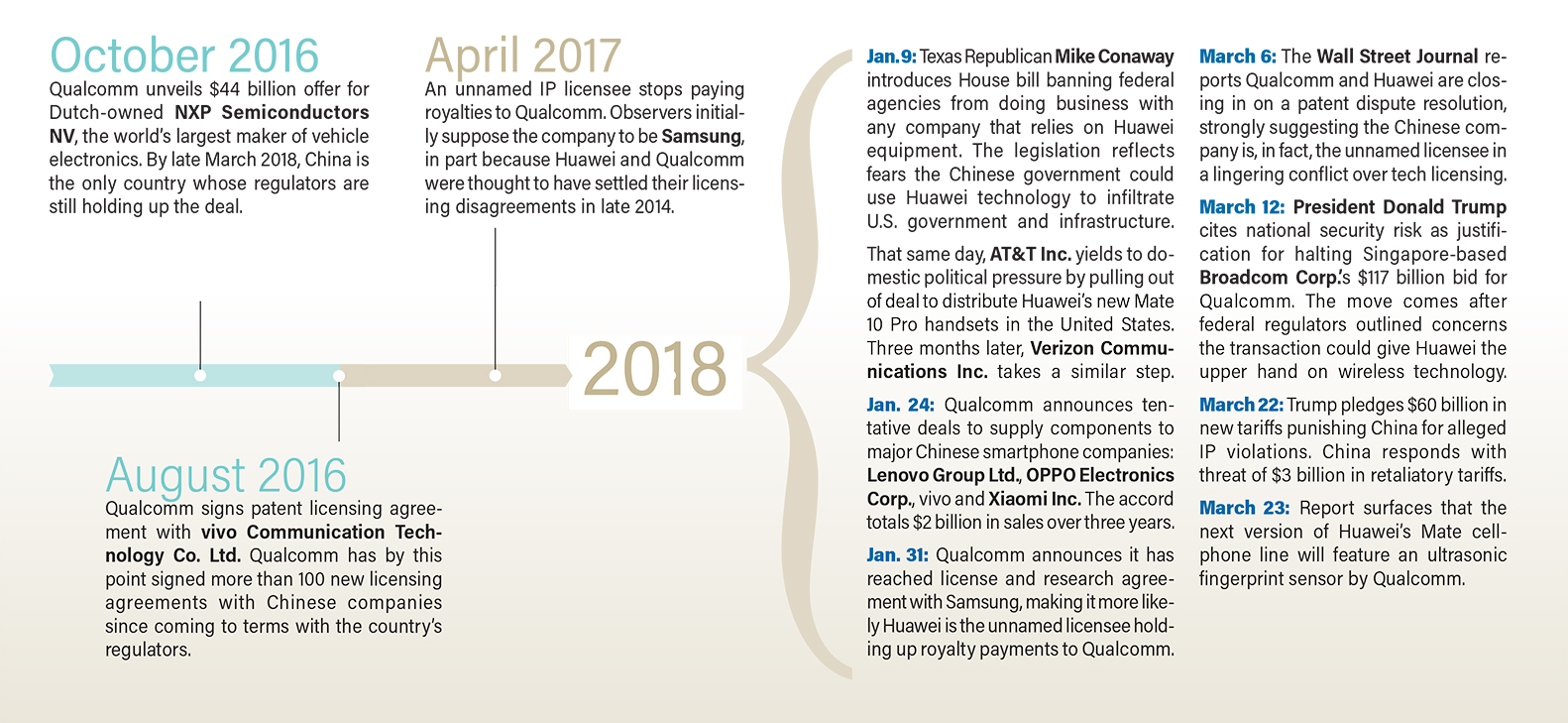 The San Diego wireless giant is trying to resolve a costly patent licensing dispute with an unnamed Chinese manufacturer widely thought to be telecomm heavyweight Huawei Technologies Co. Ltd.
If Huawei gets to pay Qualcomm smaller royalties, so might every other Chinese phone-maker.
At the same time, Qualcomm is still looking for a green light from the Chinese government on the company's $44 billion bid for Dutch-owned NXP Semiconductors NV, a full year after U.S. regulators cleared the deal. Observers say Qualcomm may be forced to sell off assets in exchange for an antitrust decision allowing it dominance in auto electronics and a big boost in the internet of things.
The proceedings shouldn't be related, as Huawei is ostensibly independent from the Chinese government. But some analysts assert the discussions probably are linked, and that as a result, the Trump administration's economic protectionist moves are touchy for Qualcomm.
A connection between Trump's tough trade policies, China's NXP review and the Huawei licensing talks is "probably hanging together at least loosely," said Stacy Rasgon, senior analyst for U.S. semiconductors at New York-based AllianceBernstein LP.
In a move viewed as helping to ease China's concerns, NXP last week sold its stake in a Chinese chip-design joint venture. Reuters reported that, according to a stock exchange filing, NXP sold its 40 percent of Suzhou ASEN Semiconductors Co. Ltd., to Taiwanese venture partner Advanced Semiconductor Engineering Inc., for $127 million.
Tracing the Connections
"Things are all kind of intertwined here," he said, adding the current cross-Pacific dynamic is "probably not a positive" and is at best neutral for Qualcomm.
Trump's March 22 announcement of $60 billion in tariffs against China is not expected to target wireless components directly, nor is the $3 billion Chinese retaliation plan. Observers say there could be shared damage, though, because industry supply chains tend to be global and long.
The question is whether harm will come from a new chill in U.S.-Chinese trade relations. Impacts are already being felt in China: U.S. sales of Huawei products have been limited by cybersecurity warnings from top intelligence officials and political pressure on domestic wireless carriers and phone retailers.
China and Qualcomm still appear to need and want each other. Last month, it was reported the next in Huawei's Mate cellphone line will feature Qualcomm's fingerprint sensor technology. And in January the San Diego company signed deals worth $2 billion with four leading Chinese smartphone-makers, not including Huawei. That month, Qualcomm President Cristiano Amon said China would soon become the company's top market.
Huawei's 5G Investment
Meanwhile, Huawei is growing bolder and more independent. It has invested heavily in next-generation 5G wireless technology that, as a rare manufacturer using its own microchips, indicates the company has no plans to license to others. There are estimates it owns up to 10 percent of all 5G patents — likely less than Qualcomm but more than the Chinese company's 4G holdings.
Qualcomm has publicly acknowledged the patent licensing dispute, but it has said it won't name the company it's at odds with until such time as it sees an advantage in doing so. It became clear Huawei is the adversary in January when Samsung wrapped up a licensing deal with Qualcomm. Apple Inc., had already been named as having a licensing quarrel with Qualcomm, so that left only one company big enough to have inflicted the estimated $1 billion royalty loss to Qualcomm. Then, In March, the Wall Street Journal reported Qualcomm and Huawei were close to resolving a lingering patent dispute.
There is some surprise in Qualcomm's licensing conflict with Huawei, in that disputes of this kind were supposed to have been settled years ago. On the other hand, periodic renegotiation of technology royalties is a quirk of smartphone technology, where manufacturers pay IP holders a fixed amount per unit sold.
Qualcomm was thought to have smoothed over its Chinese business relationships in 2015 through the resolution of a 14-month licensing dispute with the country's regulators. That accord, which Qualcomm used to renegotiate new terms with more than 100 Chinese companies, came on the heels of a separate royalties deal with an unnamed Chinese manufacturer now believed to have been Huawei. Terms of that settlement were not disclosed but involved a catch-up payment to Qualcomm.
Steven L. Ré, president of Fairbanks Capital Management Inc. in Rancho Santa Fe, asserted the more recent dispute probably comes down to Huawei telling Qualcomm it has a wealth of 5G IP and is leveraging that to negotiate a lower royalty rate as part of a cross-licensing agreement.
IP Complications
Such conflict is simply how the industry works, said Danny Crichton, a New York editorial manager for San Francisco-based tech industry analysis website TechCrunch.
"There's always going to be a fight," he said. "Licensing disputes are part and parcel of having an IP business."
Besides positioning, another reason these conflicts break out is that companies can lose control of their IP if they don't assert it, said Jim McGregor, founder and principal analyst at Arizona-based Tirias Research.
Otherwise, he said, Qualcomm has a financial incentive to build friendly relationships with as many smartphone manufacturers as possible, and that way license its technology as widely as possible.
Rasgon, at AllianceBernstein, offered two perspectives on Huawei's and Qualcomm's confrontation. It's either a temporary impairment that will be worked out, he said, or a weakness in Qualcomm's IP-centric business model that will have to be addressed somehow.
Rasgon added he doesn't know which approach is right, but that some adjustments may be in order to help the company compete.
"The change in U.S.-China relations could have an impact in terms of how you do this," he said.
Huawei Technologies Co. Ltd.
CEO: Ren Zhengfei
Revenue: $75 billion in 2016,
a 32 percent increase from 2015
Net income: $5.3 billion in 2016,
or 0.4 percent more than 2015
Total number of employees:
180,000 in 2016
Headquarters: Shenzhen,
Guangdong, China
Year founded: 1987
Stock symbol and exchange: Huawei is a privately held company
Company description: Huawei is the world's largest maker of telecommunications equipment. It designs chips, manufactures smartphones and wireless infrastructure, offers telecommunication services and has invested heavily in the next-generation wireless technology known as 5G