PROPERTY: SUMMIT POINTE DELIVERS DESIRED AMENITIES IN I-15 CORRIDOR
Co. Embraces Trend of Making Old Buildings New Again
Tuesday, April 3, 2018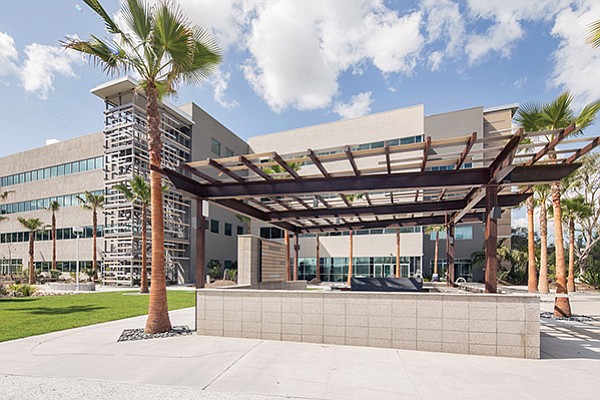 San Diego — When Newport National Corp. acquired the former home of HD Supply near Scripps Ranch and Sabre Springs for $31.3 million in 2016, the company set out to transform what had been a telephone call center and office suites into something special.
"We drove and looked at every single building in San Diego that was doing exterior remodeling," said Jay Alexander, managing director of the commercial brokerage firm JLL.
JLL and Colliers International commercial real estate brokers are the leasing agents.
"No one had taken it to the level as some of the developers on the coast," Alexander said. "We wanted to bring that perspective out to the I-15 (Interstate 15) corridor."
Under the direction of Newport National President Scott Brusseau, the Carlsbad-based real estate development company poured $5 million into renovating the 146,582 square foot building, gutting the entire first floor, replacing a grassy lawn with a three-acre exotic botanical garden with more than 1,000 varieties of plants and redoing the entire exterior, among other things.
Perched at the end of a cul de sac on a 21-acre site at 10641 Scripps Summit Court, the building — renamed Summit Pointe — overlooks Los Penasquitos Canyon Preserve, itself an amenity for the industrial office building tenants.
Outdoor Space
"The number one amenity you have to have is outdoor space," Alexander said. "Everybody wants to have a place to go outside."
Newport National took advantage of the preserve by putting in trails leading from the botanical garden into the canyon for jogging, biking and hiking.
"This is an asset you can't duplicate anywhere. It's one of the premier hiking and bicycling trails in San Diego County," said Chris Williams, associate vice president of Colliers, who brokered the 2016 sale of Summit Pointe to Newport National.
Recruiting Draw
Summit Pointe is an example of a trend that's likely to grow along the I-15 corridor with office and industrial buildings undergoing extensive renovation similar to what's happening in downtown San Diego as building owners scramble to meet demands from tenants looking for workplaces with the amenities that will help them recruit and keep skilled workers.
"New construction is so expensive, that to buy a building and reposition it provides developers and tenants a more economical solution than new construction," Williams said.
There also just isn't that much land left in much of San Diego County for new buildings, Brusseau said.
"The future will be redevelopment of existing uses, either changing the use or making them a better use of the previous facility," Brusseau said. "You're seeing it throughout the county."
Prev Next