TECH: OTHER COS. FOCUS ON DEPLOYMENT OF SMALL CELLS
With Key Intellectual Property, Qualcomm Positions Itself To Lead on 5G
Originally published September 28, 2017 at 1:59 p.m., updated September 28, 2017 at 1:59 p.m.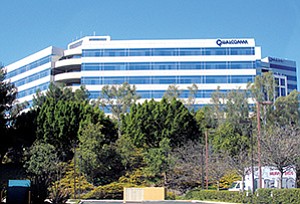 San Diego — Engineers at Qualcomm Inc. are shaping a new, faster form of wireless communications.
The technology, called 5G, could be in consumers' hands as soon as 2019, and revenues from it are expected to flow to the San Diego business.
Consumers and businesses people who want to use 5G's ultrafast and nearly immediate data service will need to get new phones, and wireless carriers will need new cell tower equipment. 5G is also expected to connect a variety of machines, including cars, to the internet.
Regulators worldwide have yet to adopt a 5G standard, but Qualcomm (Nasdaq: QCOM) asserts it is a leader, and its technology will be central to the 5G standard.
As it has in the past, Qualcomm is expected to make microchips for the new technology. And, since it will own patents central to 5G, a royalty from every wireless device sold will flow to the San Diego business.
Meanwhile, other companies and states are preparing for 5G. Many are focusing on 5G cell equipment, including devices called small cells. Small Cells
Several businesses stand to win if more small cells are deployed, said Ken Schmidt, a wireless consultant based in upstate New York. They include companies owning the fiber optic infrastructure connecting small cells to terrestrial networks, companies such as Comcast Corp. (Nasdaq: CMCSA), Crown Castle (NYSE: CCI) and a familiar name in San Diego, privately held Cox Communications Inc. Big wireless service providers such as AT&T Inc. (NYSE: T), Sprint Corp. (NYSE: S), T-Mobile (Nasdaq: TMUS) and Verizon Communications Inc. (NYSE: VZ) also stand to gain, he said.
Small cells have limited range. Wireless telecom carriers are expected to mount them on lampposts and traffic signal posts.
The California Legislature in September passed a bill that makes it easier for telecom carriers to deploy small cells. In addition, SB 649 limits fees that local governments may charge carriers for space on city infrastructure such as poles. A state senator representing San Diego County, Ben Hueso, D-Chula Vista, carried the bill.
Schmidt said he counts 21 states that have considered similar bills.
Schmidt's business, Steel in the Air, represents property owners and public entities in their lease negotiations with wireless carriers and tower companies.
As of Sept. 26, Gov. Jerry Brown had not signed SB 649.
Bill opponents say that cities' rights are being trampled and municipalities need to maintain control over what happens within their own boundaries.
Prev Next