TRANSPORT: USING BIOMETRICS FOR TICKETING MAY INCREASE SPEED, DATA
Cubic Reads Your Palm as Part of Future of Mass Transportation
Originally published September 28, 2017 at 2:13 p.m., updated September 28, 2017 at 2:13 p.m.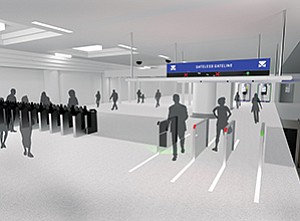 San Diego — San Diego-based Cubic Corp. is investigating whether a biometric scan might serve as a good train ticket.
The technology is not ready for real-world deployment yet, but Cubic (NYSE: CUB) and its partners are pushing forward with the project.
The British government is helping to fund the research, which is based in the United Kingdom. Financial details of the agreement were not immediately available.
Cubic already provides advanced ticketing technology for London's rail transit system, as well as systems around the world.
Facial Features
The business is working on two biometric structures, one that recognizes facial features, and another that scans the veins in the palm of a person's hand.
Several things are driving the technology push, including Cubic's wish to keep up with transportation system technology. You might say Cubic is laying the groundwork for future business.
Meanwhile, London expects more people to climb aboard its congested urban transit system. Five years ago, authorities predicted ridership would double in 15 to 25 years, thanks to population growth and "hyper urbanization." That is according to Dave Roat, strategy director at Cubic Transportation Systems.
As a result, transportation planners have to think ahead to longer, higher-capacity, and more frequent trains and all the infrastructure changes to support them.
They are also thinking about how they might eliminate one choke point for people: the gates where commuters line up to present their tickets. Roat described the gate as "a line in the sand" that riders have to cross.
No Crowd at the Gate
Cubic and its partners are thinking of eliminating the crowd at the gate — and the gate itself. Instead, people could walk down a long corridor. At some time during that walk, passengers could show evidence they had paid to ride the train.
Currently the palm vein scanner offers the most promise. It offers almost the same speed as a smart card, Roat said.
Facial recognition technology works about 70 percent of the time — and that is in a controlled, laboratory environment.
"We couldn't live with 70 percent," Roat said, noting the technology needs to mature.
Not All Onboard
Recently, to gauge response his office showed off its facial recognition and palm vein scan technology to a crowd at the London Transport Museum, an attraction that features historic bus, taxi and subway equipment.
The results of the poll were not scientific, but they offered a glimpse of public sentiment.
Prev Next