TECH: GROUP HELPS THEM TAKE ON TASKS BEYOND TECH
Leading Roles Can Be Personally Challenging for CTOs
Originally published October 23, 2017 at 12:41 p.m., updated October 23, 2017 at 12:41 p.m.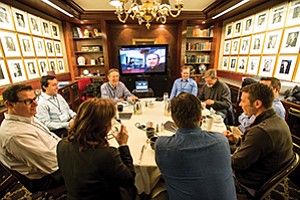 CTO Conference
7CTOs is holding its first annual event — called 0111 The CTO Conference — this year in San Diego. The event will include one full day of CTOs sharing insights, experiences, building relationships and "geeking out." There are two tracks: leadership and technology.
Speakers include Bryan Hall, the principal architect for Seismic Software; Jacob Sims, the CTO of WebMD Health Services; Jeff Sippel, CTO of Acorns; and Phil Borlin, director of engineering for Veyo.
The conference takes place on November 1, 2017 at the Bahia Resort Hotel at 998 W. Mission Bay Drive. Tickets are $90 plus Eventbrite fees for 7CTOs members, and $275 plus Eventbrite fees for non-7CTOs members.
San Diego — Imagine your sharpest, most effective software engineers...