TECH: CODING COMES CHEAPER, CLOSER AND IN SAME TIME ZONE
Tijuana's Dev Shops Target SoCal Startups
Originally published October 12, 2017 at 12:58 p.m., updated October 12, 2017 at 12:58 p.m.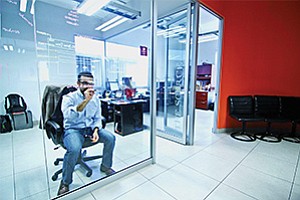 San Diego — It's not unusual for tech startups to hire coders overseas, as tech talent is pricey and offshoring this kind of work can save a few bucks while budgets are tight. But hiring these remote workers can get tricky, and startups can end up hemorrhaging cash by outsourcing unwisely.
Most often, tech startups work with contract houses in Eastern Europe and Asia, as these regions are hotbeds for software development. More recently, however, a collection of software development shops in Tijuana are vying for the attention of tech startups in San Diego and Los Angeles. The TJ-based "dev shops," as they're called, contend that local startups will be better off relocating that work closer to home.
Newcomer to Tijuana Tech Scene
San Diego entrepreneur Ben Jenkins is part of this crowd. He just launched a new dev shop in Tijuana called Innovations Realized, with the sole purpose of doing software development work for tech companies in Southern California.
Jenkins, a San Diego resident and longtime technologist, said he's been deeply involved with local startups for much of his career. He spent the past decade leading product development for software firm Kintera and Blackbaud, which acquired Kintera for $46 million in 2008. During that time, Jenkins said he had a close up view of San Diego's tech scene and the challenges many tech entrepreneurs face.
"Most software startups in San Diego aren't funded at the level they should be," Jenkins said. "You've got startups trying to scale, but they don't have the resources or money here to do it."
Jenkins said he felt local founders were missing an opportunity to work with software shops in Tijuana, which charge less than local shops for development work. How much less? He estimates roughly 50 percent off the total cost of the job, although that number fluctuates depending on the difficulty of the work and the engineer's experience level.
The Dev Shops
Innovations Realized isn't the only dev shop in TJ that's vying to work with local tech startups, said Guillermo Mejia, who works for one of the bigger dev shops in Tijuana – ArkusNexus. The company employs about 150 software engineers in TJ and has been around for about 15 years. Mejia actually works as the director for Mind Hub, a tech incubator owned by ArkusNexus. The two entities share a technology campus — and sometimes share engineers.
Mejia said ArkusNexus works with a lot of large companies worldwide, but has several startup clients in Southern California, including San Diego-based Spark Compass.
Prev Next