SmartCover Systems Gets a $3.2M Contract
Tuesday, November 14, 2017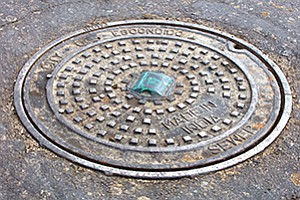 SmartCover Systems of Escondido has received a $3.2 million contract to supply its manhole-mounted fluid level sensors to the San Antonio, Texas, sewer system. The business announced the deal in late October.
The 200 sensors to be installed under the contract will join 300 sensors in the network operated by the San Antonio Water System, to make the largest deployment of SmartCover sensors in the country.
By gathering data through the SmartCover system, the utility was able to reduce unnecessary maintenance and cleaning by 94 percent, the Escondido manufacturer said.
The SmartCover system reads the fluid level in the sewer below it and relays that information to the cloud via a satellite link.
Toronto-based XPV Water Partners bought a stake in SmartCover last year.