TECH: CO. CAPTURES, ANALYZES VIDEO AND MAKES REPORT TO CLIENT
SmartDrive Turns Attention To Monitoring Drivers' Focus, Actions
Originally published November 9, 2017 at midnight, updated November 10, 2017 at 6 a.m.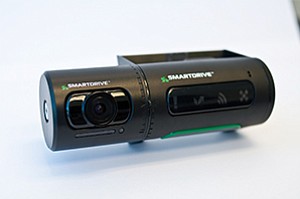 San Diego — We've all done it while driving: taken our eyes off the road to peek at an incoming text message or take a bite of a snack. That very human tendency is a big liability for everyone on the highway, and a big liability for trucking companies.
SmartDrive Systems Inc. is rolling out a new tool to help trucking and transit operators deal with such dangerous behavior.
Miramar-based SmartDrive is already deep into the market. The company, founded in 2004, has more than 650 employees dedicated to monitoring driver behavior and road conditions using video and other sensors (think G-force detectors).
The first product in its new SmartSense line targets inattention.
The business has developed a sensor that stands in the middle of a truck's dashboard. It uses computer vision to detect the direction of the driver's head and eyes. Its face-mapping technology can catch a driver staring at his cellphone rather than watching the road. By picking up light in the infrared spectrum, the sensor can detect such behavior even if the driver is wearing dark sunglasses.
The offering builds on SmartDrive's existing platform. With testing out of the way, the business plans to make SmartSense available commercially in the first quarter of 2018.
When a SmartDrive client's truck gets rolling, several sensors start collecting data. When the system detects odd behavior — a sudden stop, for example — it captures 20 seconds of video. That's 10 seconds before the incident and 10 seconds after. The system immediately sends the video through the cellular network to SmartDrive. A SmartDrive employee looks over the video, interprets the situation, prioritizes the risk and then sends a report to the truck line. A truck line manager can then discuss the incident with the driver.
False Sense of Security
Drivers often have a false sense of security, said Melissa Purcell, SmartDrive's senior vice president of marketing and customer success.
In many accident situations, drivers believe they're safe. They have set their cruise control for the speed limit and they think they have positioned their truck so it won't tangle with surrounding traffic. They don't realize how much time they are taking their eyes off the road. When it's time to focus on the road again, it takes a little more time for drivers to reacquaint themselves with the situation in front of them.
Purcell showed several videos of road warriors on interstate highways.
In one video shot from the ceiling level of a truck cab, a driver opens his mouth wide for a yawn. His eyes shut and open.
Prev Next