Independent Toy Stores Play to Their Strengths
RETAIL: They Focus On Customer Service, Create Community Feel
Originally published November 9, 2017 at midnight, updated November 17, 2017 at 6 a.m.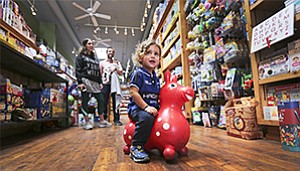 San Diego — Say you were thinking of buying a new-to-market toy like the Zipes Speed Pipes Performance Pack, a hot item among the under-13 crowd. (The holidays are around the corner, after all.) Sure, this network of pipes that a toy car zips around at breakneck pace looks fun in YouTube videos.
But suppose you wanted to try it out to see if the toy would really appeal to kids ages 5 to 13, as advertised. Seeing as most big-box retailers wouldn't allow you to open the box and use the toy, you might turn to an independent local toy store, which is probably one reason why they still exist in this age of Amazon and free shipping. It might also hint at some reasons why big-box stores are struggling, the most recent example being Toys R Us. Saddled with $4.9 billion in debt, the New Jersey-based toy leviathan filed Chapter 11 bankruptcy in September. Even as the fun and games may be over for the nation's biggest toy store, small independent toy retailers such as La Jolla-based Geppetto's Toys are reporting strong sales and even growth. Industry experts believe the stores owe their vigor to offering the antithesis of what customers find with big-box or online outlets: knowledgeable sales people, curated selections, hands-on demonstrations and the appeal of staying local.
Alive and Playing
"We believe independent toy retailing is still a viable industry," says Kimberly Mosley, president of the nationwide American Specialty Toy Retailing Association (ASTRA). "There's been a lot in the media about the death of retail and we're not seeing that with our retailers or the folks that are part of our membership."
In all but one of the last five years, ASTRA has increased its membership. This year it has added just shy of 350 new members nationwide to its base of retailers, manufacturers and other industry professionals that totals 1,643 members. (California has 246 members). The increasing membership is "indicative" of a thriving sector, Mosley says.  
For now, Toys R Us plans to keep its 1,600 stores around the world open. But chances are none of them would open a sealed box. (Reached by phone, a sales clerk at a San Diego Toys R Us location confirmed as much.) That's a far cry from the experience customers get at Geppetto's Toys.
Hands-On Experience
"There's no such thing as a sealed box," says Brian Miller, the company's president. With nine locations in San Diego County, Geppetto's Toys is the country's biggest independent toy store, but still a world away from a national chain. "If something needs some explanation or a parent wants to see how big the pieces are, we're happy to give them that hands-on experience," Miller said. He adds that business can be unpredictable month-to-month, but he's projecting an increase over last year.
Prev Next