Reports: Broadcom Exploring Bid for San Diego-Based Qualcomm Inc.
Friday, November 3, 2017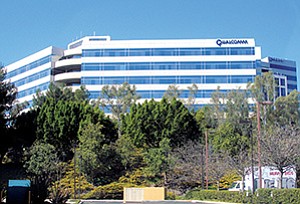 Broadcom is reportedly exploring a bid for Qualcomm Inc., the San Diego-based wireless technology company.
Bloomberg News first reported on Nov. 3, citing unnamed sources, that Broadcom (Nasdaq: AVGO) was speaking to advisers about the topic.
A Qualcomm representative told the San Diego Business Journal that the company had no comment.
Early reports said Qualcomm (Nasdaq: QCOM) could be valued at $100 billion or more. Shares of the San Diego business closed the day up more than 12 percent to $61.81, giving it a market capitalization of more than $91 billion. The business reported $38.6 billion in cash in a Nov. 1 securities filing.
Joel Weinstein, a partner and managing director at San Diego-based W Partners, which advises companies on mergers and acquisitions, said Qualcomm's recent stock performance has left it in a vulnerable position.
"Considering the company has directors that have been appointed by activist hedge fund Jana Partners, who are known to be very demanding shareholders, the inward push from the board level and outward pressure from shareholders will make an attractive offer difficult to resist," Weinstein said.
Jana profited from an investment in Whole Foods Market, which Amazon.com Inc. snapped up.
News of a possible offer for Qualcomm came on a day when Broadcom said it planned to move its headquarters from Singapore to the United States. Broadcom is no stranger to mergers and acquisitions. The company, formerly based in Orange County, was purchased by Avago in a deal that closed in early 2016.
The news also came during a crowded week, when Qualcomm announced earnings and an updated timeline in its bid to buy NXP Semiconductors. The company also provided a short update on its extensive litigation with Apple Inc.
In related news from a notable week, Qualcomm filed a new lawsuit against Apple, saying Apple improperly shared software containing trade secrets with Intel Corp. (Nasdaq: INTC). Qualcomm filed the breach of contract suit Nov. 1 in San Diego Superior Court.
If Broadcom buys Qualcomm, the transaction would certainly be felt in the broader San Diego community.
San Diego only has two locally based public companies big enough to be on the Fortune 500, said Seth Kaplowitz, a lecturer at San Diego State University's Fowler College of Business. The move might leave Sempra Energy as the sole Fortune 500 business if no other public company grows big enough to get a spot on the list, which ranks companies by revenue.
Broadcom would love to have Qualcomm's engineering talent and intellectual property (including the up and coming 5G wireless technology), he said. However, it would not need redundant support staff. Layoffs would be inevitable.
The Jacobs family — which founded and steered Qualcomm in its early decades — might somehow minimize the blow to San Diego, Kaplowitz said. "I can't imagine them doing something that would impact San Diego's economy detrimentally," he said.
If the acquisition does go through, San Diego might consider offering Broadcom a deal to stay in the area, he added.
Staff writer Sarah de Crescenzo contributed to this story.