These 3 e-Learning Companies Want You to Know…
Right Tech, Information And Engagement Critical for Success
Originally published May 15, 2017 at 9:23 a.m., updated May 15, 2017 at 9:23 a.m.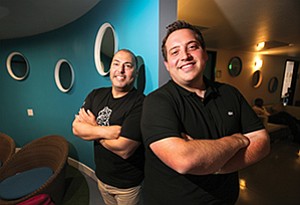 San Diego — Would-be CPAs studying into the night.
Doctors wanting to keep their skills current.
Corporate executives trying to turn mandated training into something palatable … maybe even entertaining.
Gryfin LLC, Blue Sky eLearn LLC and eLearning Mind chase after these three national markets, doing some or all of their work in San Diego.
Their common denominator is e-learning.
Gryfin and eLearning Mind operate on the premise that fresh is always better than stale. As more millennials arrive in the workplace, the businesses see a demand for fresh design and fresh modes of presentation, rather than the same-old-same-old.
Blue Sky has built up its business saving and sharing highly specialized information that practitioners share during conventions and conferences. The stuff is so obscure and specialized that company President Philip Forte calls it "un-googleable."
The three companies seem to be chasing something good. Research and Markets predicted that the global e-learning market will experience a compound annual growth rate of 7.2 percent to reach $325 billion by 2025.
One Southern California peer developed so well that LinkedIn snapped it up for $1.5 billion in 2015. That was Santa Barbara County-based Lynda.com, a business offering video tutorials online through a subscription model. Lynda offers solutions for governments as well as corporate clients. (LinkedIn was subsequently gobbled up by Microsoft Corp. (Nasdaq: MSFT) for $26.2 billion.)
The three San Diego e-learning companies profiled here were not overnight successes, but are the results of hard work. And they are definitely not cut from the same cloth.
eLearning Mind
ELearning Mind (ELM) runs a shop full of talented creative types in one of San Diego's trendiest neighborhoods. Instead of mass-market advertising, however, the employees at the Little Italy business produce materials that most San Diegans will probably never see.
The business — which had $5 million in sales last year and expects $7 million to $10 million this year — helps big corporate clients with their in-house training needs.
For example, the company's e-learning modules help new associates in Godiva Chocolatier boutiques sell their products more effectively. ELM's local clientele includes NuVasive Inc. (Nasdaq: NUVA), the Sorrento Mesa-based maker of medical devices for spinal surgery; ELM produces sales training materials.
The beauty of eLearning Mind's business plan is that the company can tap several of its customers' budgets, including marketing, sales training and human resources.
Chief learning architect Jack Makhlouf started the company in 2008. CEO Andrew Fayad and President Simon Casuto came on in 2012, bringing finance, project management and customer service talent.
Prev Next
Page 1 of 3.