San Diego Firm Buys Vista Apartment Property for $134 Million
Wednesday, June 21, 2017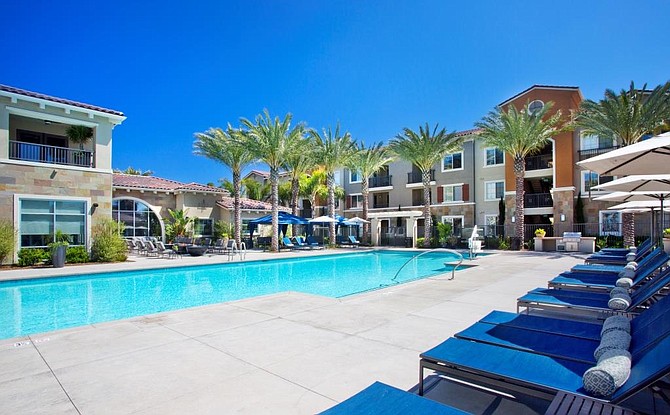 An affiliate of San Diego-based MG Properties Group has acquired the 410-unit Alexan Melrose apartment community in Vista for $134 million, according to CoStar Group and brokerage firm Holliday Fenoglio Fowler LP (HFF).
The seller of the property, completed in March 2015 at 1401 N. Melrose Drive, was Melrose Vista Apartments LLC, an affiliate of Carlsbad-based Trammell Crow Residential Co.
An HFF statement, which did not list the price, said MG Properties purchased the apartments free and clear of existing debt. A statement from CBRE Group Inc., which arranged financing on behalf of the buyer, said MG Properties took out an $84.9 million, 10-year loan through Freddie Mac for the purchase.
CBRE brokers said MG plans to rebrand the Vista property, which was 94 percent leased at the time of sale, as the Preserve at Melrose Apartments.
The seller was represented by an HFF team led by Hunter Combs and Sean Deasy. The buyer's financing was arranged by CBRE's Scott Peterson, Bill Chiles and Brian Cruz.
Led by founder and President Mark Gleiberman, MG Properties Group was started in 1992. It currently oversees an apartment property portfolio valued at more than $2 billion, totaling more than 14,500 apartments in California, Arizona, Nevada, Washington and Oregon.