Michael Zucchet Sworn In as Port Commissioner
Monday, June 19, 2017
The Port of San Diego swore in Michael Zucchet as its newest commissioner on June 15. Zucchet represents the city of San Diego on the board and was appointed by the City Council.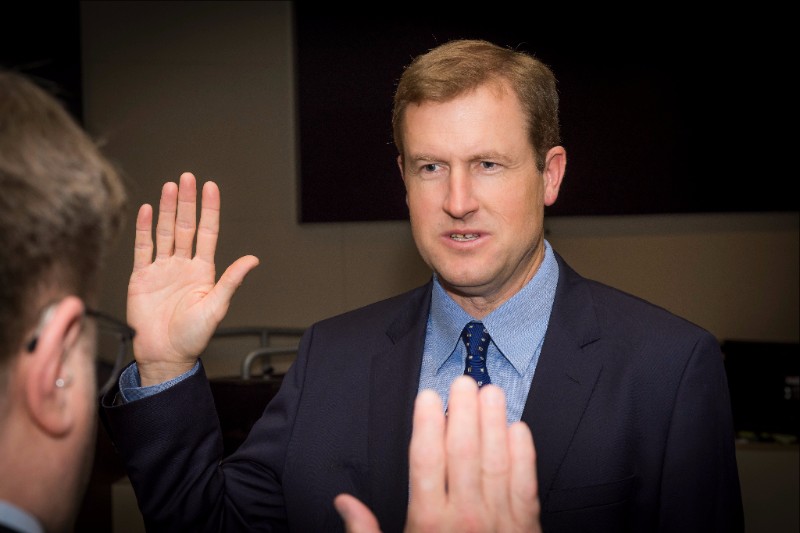 Zucchet will serve the remainder of Bob Nelson's term. Nelson announced in May that he was stepping down from the board, saying he planned to campaign to expand the San Diego Convention Center and to devote more time to his advertising and public relations business.
The port's seven member board includes three representatives appointed by the city of San Diego and one each appointed by the cities of Chula Vista, Coronado, Imperial Beach and National City.
Zucchet has been general manager of the San Diego Municipal Employees Association, the union that represents city workers, since 2009. He joined the association in 2008 as a negotiations consultant.
He represented the 2nd District on the San Diego City Council from 2002 to 2005. He and another City Council member left office following a court case that alleged corruption around an effort to change the law covering adult entertainment venues. Zucchet said a jury found him guilty of nine counts and acquitted him on 28 other counts. A judge then acquitted him on seven of the counts, citing lack of evidence, and declined to enter a judgement on the remaining two. Following an appeal, the U.S. Attorney did not pursue the two counts again.
Zucchet has also worked for the Utility Consumers' Action Network, aka UCAN, and served as the legislative and community affairs director for the San Diego City Fire Fighters.
Zucchet's community involvement includes serving as chairman of the San Diego MADD Advisory Board; board member of the Center on Policy Initiatives; chairman of the city's Municipal Golf Committee; board member of the San Diego Regional Climate Education Partnership; and member of the San Diego Business Alliance for Water.
He worked as a renewable energy economist with the Energy Information Administration of the U.S. Department of Energy in Washington, D.C.; he jhas done work with the nonprofit Environmental Defense Center in Santa Barbara; and has served as president of the San Diego League of Conservation Voters.