Reputation Redesign Needed for San Diego
WORKFORCE: Tech Talent Sees Dinosaur Not Dynamism
Originally published July 13, 2017 at 1:26 p.m., updated July 13, 2017 at 1:26 p.m.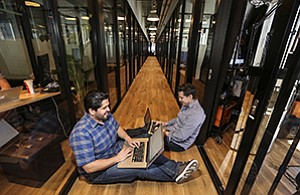 San Diego — When it comes to the tech sector, San Diego has a branding problem.
To outsiders, the city is better known for tacos than it is for technology. To insiders, the city's longstanding technology firms are considered old-fashioned, conservative, and slow-moving. Indeed, San Diego's entire tech scene has earned a reputation for being stale.
Neither perception is particularly true, but the impressions persist. The issue has become known as San Diego's "branding problem," and it's been a popular discussion among business leaders for the past year.
The overwhelming consensus in both corporate technology and the local startup community is that San Diego's branding problem is inhibiting recruitment and stymieing investment. The favorite line among business folks is, "San Diego is bad at telling its story."
All of the recent attention on the subject has inspired a wave of action from business leaders to improve the technology brand of San Diego, as evidenced by the recent three-day visit by internet pioneer Vint Cerf. The hope is that the city can build a reputation for innovation in technology that could rival San Francisco, Seattle, Austin, and Boulder.
Why It Matters
While San Diego certainly has conservative and sluggish companies, it also has a dynamic startup community (and corporate players that are increasingly active in nurturing its growth). The city is also home to a fast-growing concentration of software companies, an advanced genomics-technology hub, and an emerging video game industry. The region has a particular flair for medtech and cybersecurity. But recruiters have a hard time convincing talent of that.
Although public and private groups have worked hard to promote San Diego as a biomedical hub, less of an effort has been made for the tech sector. When recruiting Bay Area talent to San Diego, technology recruiter Jared Sanderson said his biggest challenge is convincing talent that San Diego's tech community is vibrant and varied.
"They want to know there's going to be multiple opportunities, and that they'll have plenty of exciting technology companies to work for if they move around," said Sanderson, director at Sayva Solutions.
Attracting and retaining talent is critical to developing the local tech scene.
"For far too long, the best and brightest local university graduates have led an exodus from San Diego every spring to other tech clusters, including Silicon Valley, Seattle, New York and Austin," said Kevin Carroll, executive director at nonprofit Tech San Diego. "Talent is the number one barrier to growth for the region's small and mid-size companies, which are at a disadvantage when it comes to sourcing university talent."
Prev Next