MaxLinear Scales Up, Diversifies
TECH: Connected Homes Expected to Be Major Source of Future Revenue
Originally published July 13, 2017 at 1:42 p.m., updated July 13, 2017 at 1:42 p.m.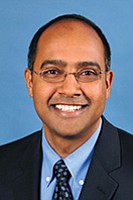 San Diego — "Significant, but achievable."
That is how Kishore Seendripu, CEO of MaxLinear Inc., described the big task of integrating Silicon Valley semiconductor maker Exar into his business, after two months as a combined company.
MaxLinear (NYSE: MXL) bought Fremont-based Exar for $687 million in cash, closing the deal May 12. It's one of three major purchases that the diversified chip-maker from Carlsbad has made in a little more than two years.
MaxLinear, which reported $388 million in revenue in 2016, took out a $425 million loan to buy Exar.
"Using debt to fund acquisitions has become increasingly common in the semiconductor industry, particularly in light of the debt market environment in recent years," Seendripu said in an email. "Exar is expected to be accretive to our cash flow, and our previous scale gave us confidence to bring on this debt. Our current plan is to aggressively pay down the debt as soon as possible."
Thanks to strong cash flow in the combined company, MaxLinear should be able to repay $25 million of debt per quarter beginning in the fourth quarter of this year, said Quinn Bolton, an analyst from Needham & Co. LLC.
Diversifying Company
The Exar purchase fulfilled the goals of scaling up and diversifying the company, Seendripu said.
Exar serves markets that MaxLinear has barely touched, including industrial and automotive; storage and enterprises servers; and switches and routers. MaxLinear executives told analysts at a recent San Francisco conference that Exar brought a lot of new customers to their door.
The acquisition presents cross-selling opportunities, said Tore Svanberg of Stifel, Nicolaus & Co. Inc. in a research note from early June. The analyst added that the acquisition is "highly complementary" from both a product and a roadmap perspective, and should add 8 cents to 12 cents to earnings per share this year.
MaxLinear specializes in radio frequency and mixed signal products while Exar emphasizes power management and interfaces.
The combined company is slowly taking shape. "The integration process is ongoing," Seendripu said. "As expected, it is a significant but achievable task.
"We are currently in the process of aligning our product roadmap in an effort to maximize our combined engineering resources, sales channels and platform-level product synergies. From a tactical perspective, our operations team is working aggressively to merge ERP (enterprise resource planning) systems and align our supply chains."
MaxLinear executives told the analysts in San Francisco that the company is targeting 15 to 20 percent annual growth in the years ahead. The business turned in a compound annual growth rate of 40 percent over the five years since 2011. MaxLinear went public in 2010.
Prev Next