WD-40 Shares Slide on Weak First-Quarter Earnings
Tuesday, January 10, 2017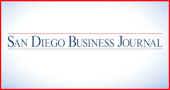 Shares of San Diego-based WD-40 Co. fell more than 10 percent Tuesday after the company's first-quarter earnings, released Monday, fell short of expectations.
Shares were below $108 as of 1 p.m. EST, down from $117.30 at Monday's close.
The company, which makes the namesake all-purpose lubricant, reported $11.8 million in profits in its first fiscal quarter, down 3 percent from the prior's year first fiscal quarter.
The specialty chemical company announced earnings for the fiscal quarter that ended Nov. 30.
Net sales for the first quarter were $89.2 million, a year-over-year decrease of 4 percent. The strong dollar impacted the company's first-quarter sales results, WD-40 said.

"As a global company that generates nearly 40 percent of its sales in currencies other than the U.S. dollar, foreign currency exchange headwinds continue to have an impact on our reported results," said Garry Ridge, WD-40 Co.'s president and chief executive officer. "Even though the global nature of our business exposes us to some currency risk, our geographically diversified business also acts as a natural hedge which can cushion us from the impact of localized events."

WD-40 didn't change its guidance for fiscal year 2017. The company expects to take in net income of $51.3 million to $52.3 million, it reaffirmed Monday.