Macy's Closing Apparel Store in Mission Valley
Wednesday, January 4, 2017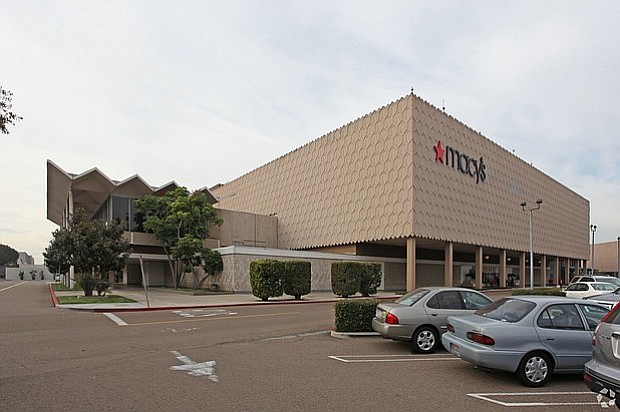 A Macy's apparel store at Westfield Mission Valley is among 65 stores nationwide slated to be closed during 2017 by the retailer.
According to a statement from Cincinnati-based Macy's Inc., the store at 1702 Camino Del Rio North is among 100 pending closings and property sell-offs that the retailer announced in August, though it did not specify locations at that time. Pre-closing inventory sales are expected to begin next week, with the Mission Valley location and other U.S. stores on the list expected to close within eight to 12 weeks.
The Mission Valley apparel store opened in 1961 and employs 140. The 385,000-square-foot building that houses the retailer was acquired in March 2016 by mall owner Westfield Corp. for $16.5 million, according to CoStar Group.
The closing does not impact a Macy's home furnishings store that also operates at the Westfield Mission Valley mall. Also remaining in operation is Macy's full-line department store at nearby Fashion Valley mall.
The local closing will leave Macy's with 10 stores in San Diego County.
The nationwide closings are among a series of moves being made by Macy's to streamline its store operations and real estate portfolio, while boosting cost efficiencies. Officials said the retailer is investing more in online and other omni-channel capabilities, aimed at improving customer service and shareholder value.
Macy's officials said the latest moves, announced Jan. 4, are aimed at generating annual cost savings of approximately $550 million, beginning in 2017, enabling the company to invest an additional $250 million in growing its digital, international and other operations.