Surf Air to Begin Service Between San Diego and Los Angeles
Thursday, February 16, 2017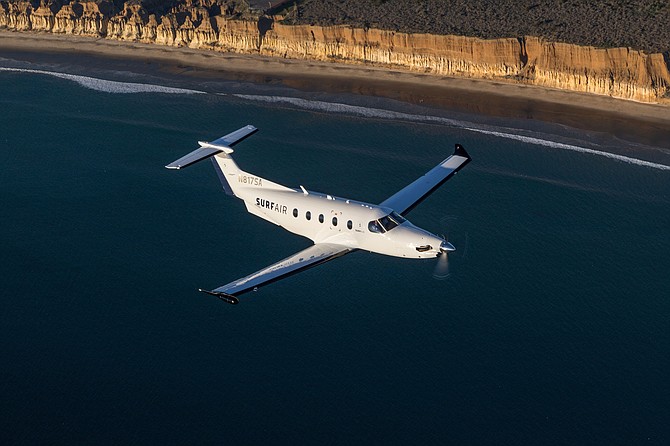 Santa Monica-headquartered Surf Air, which offers unlimited flights to commuters who pay a monthly membership fee, plans to start new service between San Diego and Los Angeles this spring.
A Surf Air spokeswoman said a specific date for the short-haul service out of the city-owned Montgomery Field has not been set. The small-craft carrier has launched pre-sales and will be doing "pop-up flights" over the coming months, with more information at surfair.com.
The exact number of planned daily flights out of the Kearny Mesa airport has also not been announced, but Surf Air officials have said there could eventually be as many as five. The service will run between Montgomery Field and Hawthorne Municipal Airport near Los Angeles.
Surf Air currently offers one daily flight to Los Angeles out of the county-run McClellan-Palomar Airport in Carlsbad, along with two to Santa Barbara. The airline's destination network also includes Palm Springs, Lake Tahoe and the San Francisco Bay Area.
The company's business model currently gives customers unlimited service for a one-time payment of $1,000 plus a monthly membership fee of $1,950. Surf Air uses the Swiss-made Pilatus PC-12 NG, a single-engine turboprop aircraft.