Software Startup Partners With Samsung
Originally published February 16, 2017 at 2:30 p.m., updated February 16, 2017 at 2:30 p.m.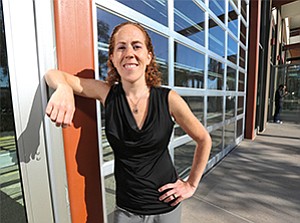 San Diego — Software startup Urban Translations has scored a partnership with Samsung Electronics that could set the San Diego company on a path for growth.
The local firm makes digital menus for the hospitality industry that helps guests order food, drinks, room service, and other amenities from a tablet. In restaurants and bars, that means ordering chicken wings from your seat instead of waiting for your server to stop by. In resorts, guests can use tablets in their rooms to book spa activities, order in meals, or buy tickets for a show, for example. The big win for travel and tourism-related companies is that Urban Translations software translates all content into any language, capturing guests who might otherwise be unreachable.
Although Urban Translations has clients in the restaurant world, the real target is casinos and resorts, said the startup's founder, Samantha Urban.
"Casinos and resorts are high up on the list," Urban said. "Getting into a hotel means we get tablets in 200 to 2,000 rooms. To really scale, it just makes sense to put our focus there."
Discount on Tablets
The new partnership with Samsung has many facets, but one perk is that Urban Translations gets Samsung tablets at a major discount before reselling them loaded with Urban Translations' software. Samsung representatives in charge of commercial tablet sales will also sell alongside Urban Translations to the hospitality industry.
"Their representatives will fly out to join me for sales meetings," Urban said. Samsung is also co-hosting events for the hospitality industry with Urban Translations to make a case for leveraging technology to increase their sales.
Urban said the startup's software increases sales for its clients, according to pilot studies conducted by Urban Translations. In resorts, the company reported that clients using their software had 28 percent more room service orders and an 18 percent bump in the total price of the average check. That's because the software takes advantage of impulse buys and up-sells, Urban said.
"As a global leader, Samsung only partners with true innovators who bring real value to customers," said Gregg Ostrowski, vice president of Samsung Enterprise Services. "In a short time, Urban Translations is transforming the hospitality industry with their dynamic software solution."
Technical Support
The startup's partnership with Samsung is pretty extensive. The electronics giant is also taking on all of Urban Translations' technical support.
"When you call our tech support number now, you'll be talking to Samsung," Urban said. "Now I don't have to hire a team of 10 people manning a phone."
Prev Next