Plasso Builds Support For Booming SaaS Economy
Originally published February 9, 2017 at 2:34 p.m., updated February 9, 2017 at 2:34 p.m.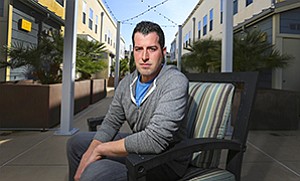 North County Startups, It's Time to Work on Community
We're told that North County has a booming startup scene, but you'd be hard-pressed to find it, especially in Carlsbad.
Drew Wilson, founder and CEO of tech startup Plasso Inc., plans to change that by founding a regular (and completely free) meetup group for tech entrepreneurs in North County.
As a tech founder working in Carlsbad, Wilson said he was surprised to learn that Carlsbad was home to a large concentration of startup companies.
A 2015 report from startup-focused nonprofit CONNECT found that 63 startups were founded in Carlsbad, while 54 were founded in downtown San Diego and 52 in Sorrento Valley.
"I was like, 'Wait, what? Where are these people? I only know like three other founders,'" Wilson said.
So Wilson launched Shape, a group that meets on the last Thursday of every month, to bring together North County tech founders. The event is hosted by Common Grounds coworking space in Carlsbad.
At Shape's first event, Ashok Kamal, executive director of Tech Coast Angels, was the main event. For February, Wilson has startup advocate and author Brant Cooper lined up to speak. Wilson is also putting together panels of entrepreneurs to discuss common pitfalls of starting up.
"That's the best way to build a community where people will actually work together," Wilson said.
Wilson believes that North County — particularly its small beach towns — is a far more desirable region to build a startup hub than downtown San Diego. He said Leucadia is appealing due to its abundant office space, walkable neighborhoods, and the lifestyle of the community.
San Diego — Software-as-a-service is a phrase you're probably tired of hearing, along with its ubiquitous acronym SaaS...